My new book of humorous essays for radio, Naming Your Teeth, is available here.
Recent publications:
Archived publications:
at
Vox Populi
(poems/essays), at

Rattle

(poems)

Interviews:
on "the stanza" with Molly Spencer:

Part 1

& Part 2
Video: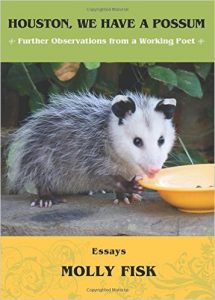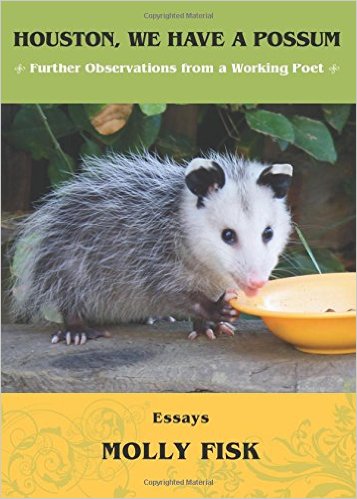 Now some people, faced with a possum, would run screaming into the driveway. But I'm made of sterner stuff, and this was a small one: not a baby, possibly middle-school aged, and it wasn't moving. I'd looked down from the table where I was paying bills to a chair next to me, where the stamps were lying. Beside them, conjured out of thin air, was a small, silent, terrified-seeming animal staring right at me…
"Whenever the familiar theme music of Molly Fisk's weekly radio essay starts up, many of us in this town, for a few minutes, stop whatever we're doing and listen. About gardening or livestock, about the change of seasons or a birth or a death or just the visit of a metaphysical shiver, Molly has always noticed something in our lives that none of us may have thought about, and she attaches a little warmth or consolation, a little poignancy, certainly a little mirth, maybe a little awe." Louis B. Jones
$12.95
Buy from your Indie Bookstore — Buy from Amazon — Buy from Molly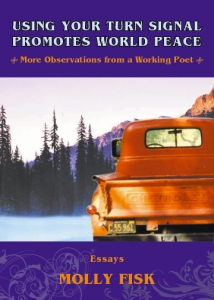 When I was a kid in California, driving behavior was legendarily civilized. Children were safe in crosswalks from Mexico to Oregon, and people whose turn-signal bulbs had burned out opened their windows even in the rain to use their hands. My relatives in Massachusetts talked about this with awe.
Unfortunately, those courtesies have gone the way of the triceratops. Most drivers are still able to make themselves wait their turn at four-way stops in my rural county, but in cities, forget about it. And you take your life in your hands today crossing any California street. The funny thing is, I think this has everything to do with world peace. I think world peace could be achieved by more people using their turn signals…
"Smart, savvy, delightfully sassy…" Steve Baker, Program Director, KVMR
$12.95
Buy from your Indie Bookstore — Buy from Amazon — Buy from Molly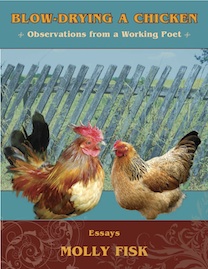 "Molly's voice is crisp and decided yet relaxed and just close enough, somehow—and the pieces all are impeccably shaped and written."  John Updike
"Molly's essays render the common uncommon. I think that what she really talks about is the art of noticing. Beautiful language, beautifully spoken." Utah Phillips
"I spent a day at the bookstore reading your essays books, and they made me need to write a note of appreciation to you for entertaining me completely with your style, and usage of words. Every story was a glimpse into your beautiful soulful being and I feel like you are someone I know and love so much more now." S., Harmony Books
$12.95
Buy from your Indie Bookstore — Buy from Amazon — Buy from Molly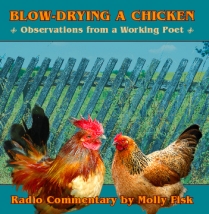 This CD includes 20 of the 50 essays in the book, recorded by Molly.
$10
Buy from Molly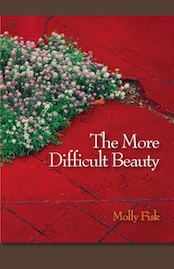 "With unflinching honesty, kind humor, and vivid detail, Molly Fisk convinces us 'There's a loveliness to every ruined thing.' The More Difficult Beauty is a brave and generous book." Ellen Bass
"The More Difficult Beauty returns emotion to the American poem with its supple lines, tempering the difficult — death, and love — with the zinnias of bright, ebullient imagery. Fisk is luminous and loud, lucid and soft, driven and wandering. Candor and humor are her hallmarks in these poems, marvels of sheer whimsy and broad, wicked observation." Molly Peacock
"Molly Fisk does not hold back. [Her] poems twinkle with the dark, nuanced subtlety of painted miniatures; they speak from the heart and gut. Devils and angels dwell in her details." Al Young
$15
Buy from your Indie Bookstore — Buy from Amazon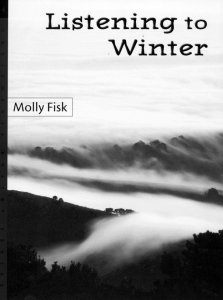 "Molly Fisk brings to her readers a poetry of great emotional power, linguistic invention, and courage. She looks long and hard at the world, and speaks to what she sees with both clarity and depth." Jane Hirshfield
"The pure lyric voice is what will endear her to lovers of poetry. That voice will last a lifetime." Carolyn Kizer
"An intellectually self-aware, bold and brilliant re/consideration of the culturally paradigmatic problem of incest. In lacunae and ellipses as powerful as the poems themselves, she shows to the mind the heart's wounds and forces it to make of them an answer. Students have to have assignment help every time they need one. View essential resource to have a complete look on the subject. Complex, memorable, Listening to Winter makes vivid the real and dangerous work of what is called, contemptuously, 'confessionalism,' meditating, from its most intimate perspective, on the nature and costs of 'The Old Order.'" Linda McCarriston
$12.50
Buy from Amazon — Buy from Molly
Save
Save
Save
Save