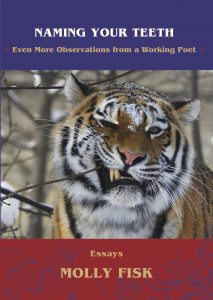 Nicholas is kind of my godson, too, by proxy, but a few years younger. One day I was walking him down the driveway to the car — I think he was about five. At the time I didn't realize that some kids don't develop a sense of humor right away, it can take a few years for that part of their brain to get organized. Just to be friendly, thinking a godmother ought to make some sort of an effort, but feeling a little awkward and therefore trying to be amusing, I asked Nick if he'd named all his teeth yet.
He turned his head to look up at me with the clearest expression in his eyes — an equal blend of surprise, disbelief, scorn, and pity — and said, forcefully, enunciating every syllable in case my hearing was as bad as my comprehension…
"Your radio essays are so delightful that I wish I could have a conversation with you now and then. Your keen observations of everyday experiences are expressed with humor and humanity." Jane Bradley, Board of Overseers of Harvard University
If you would like to purchase more than one copy, please email me so I can give you a discount on the shipping fees.
$12.95