Before the Pandemic, I was slated to do a poetry reading in Ukiah, CA, but the virus put paid to that idea. Four years later, they invited me again, and I said yes. I hadn't done any out-of-town readings since the world opened up, and felt as though I needed to practice being in public a bit. This was a great opportunity. Plus, Ukiah is only an hour and a half from the coast, and my heart was longing to hear some uninterrupted surf and smell that salt air.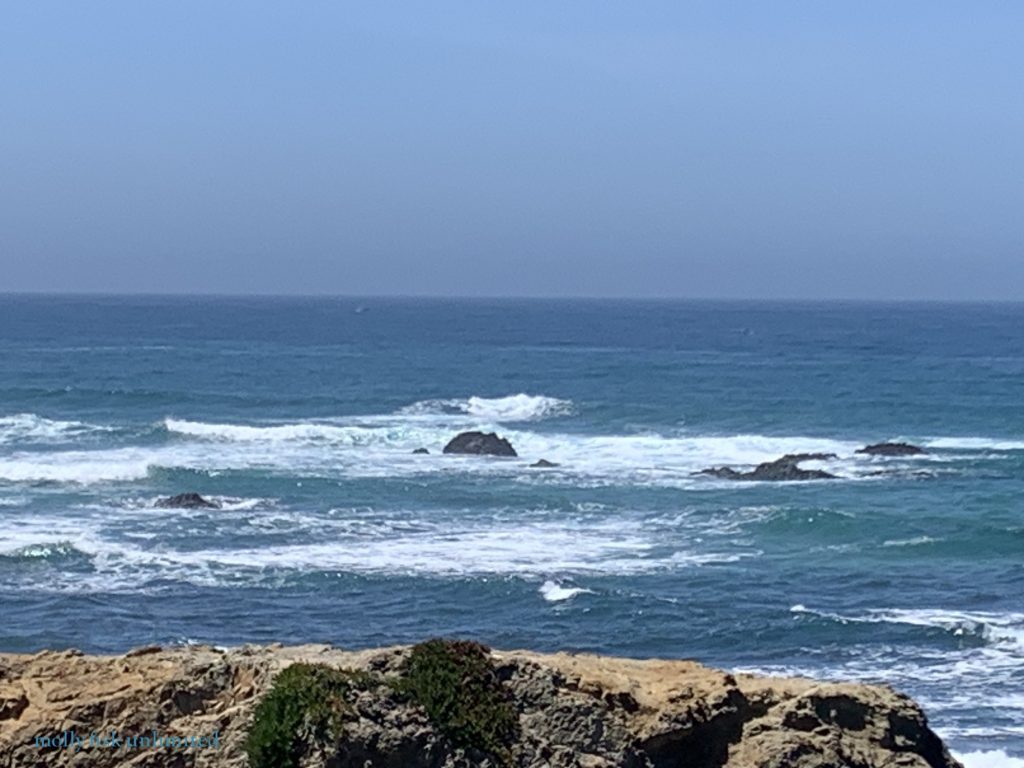 Some poets are paid a lot of money to do readings, and flown around the country for the purpose. That has happened to me twice, and was lots of fun. But most of the time, if you go to a reading, the featured poet has driven in from wherever they live—5, or in my case 150 miles away—and is getting a small honorarium and if they're lucky, a gas stipend. I was lucky. I was also housed in the lovely tree-house guest room of one of the organizers (thank you Dan Barth!).
I decided to go to the coast before the reading, rather than facing higher prices and larger crowds afterward since it was a weekend. A friend of mine recommends a particular motel in Fort Bragg, sitting right on the bluff above the water, so I took her advice and stayed there. There's a paved path that runs for miles up the coast right by the motel, and part of the fun besides walking on it is sitting in your room and watching… …everyone else go by. Strollers, wheelchairs, skate boards, millions of bikes, couples of all ages holding hands, dogs and their leashed owners, you name it. They don't look in the motel windows much—the height and angle is wrong—so there's a nice sense of spying on them that I greatly enjoyed. In addition, each room has a miniscule balcony, so you can go sit out there and drink your coffee if you want.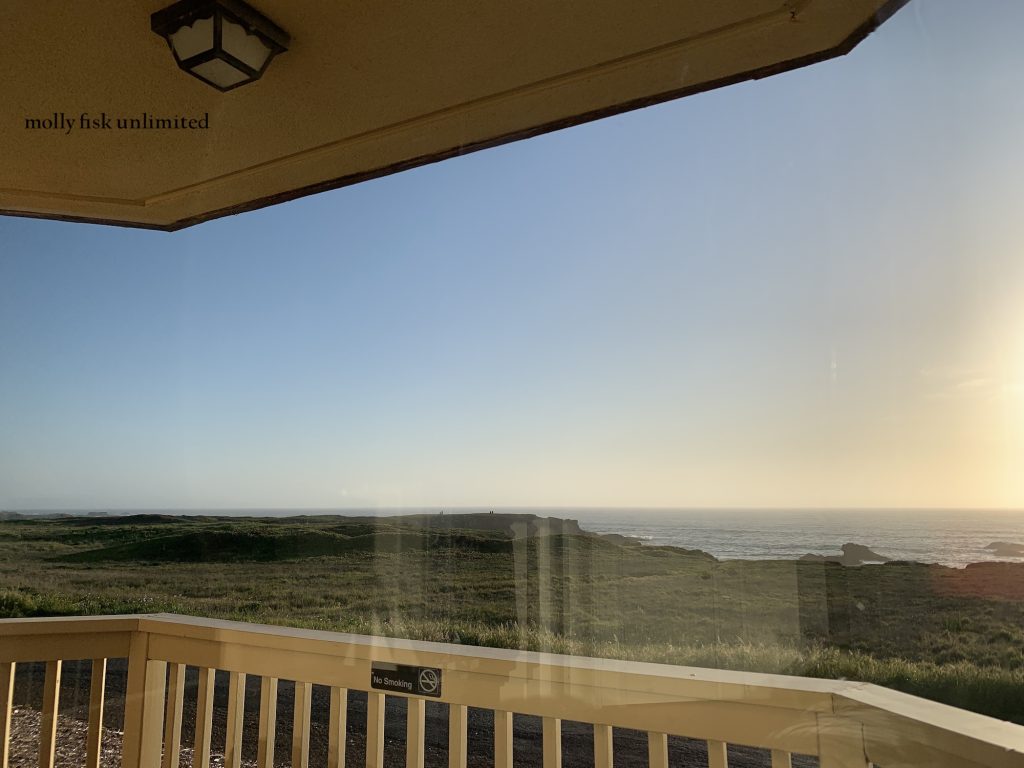 Besides just being on the coast, I wanted to write, and walk, and sleep. All those goals were accomplished. One morning I got up at 9, unheard of lateness at my house! I was in bed by 10, and I didn't watch any streaming entertainment either, a nice surprise, which I'm a little bit addicted to at home.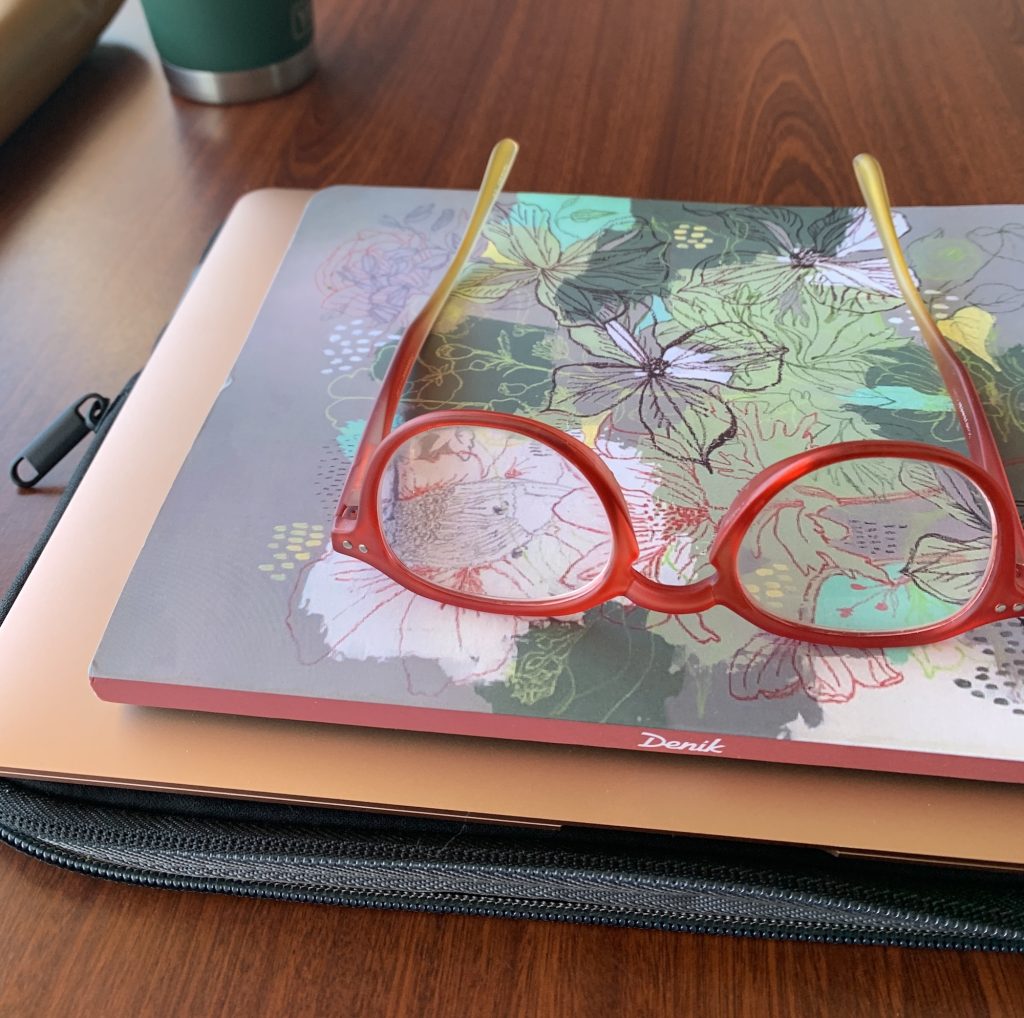 I worked on some poems, and wrote another installment of my big project, which is describing in detail what it was like to have memories that I'd never heard of come back to me. Those red glasses are computer-distance readers. My reading readers are blue. Drugstore versions right now, after cataract surgery, which for a while has exempted me from wearing glasses all the time. Apparently that will change, but right now I'm in the clown stage of switching glasses back and forth (and sunglasses when I drive). It's fairly ridiculous, but I do like being able to see.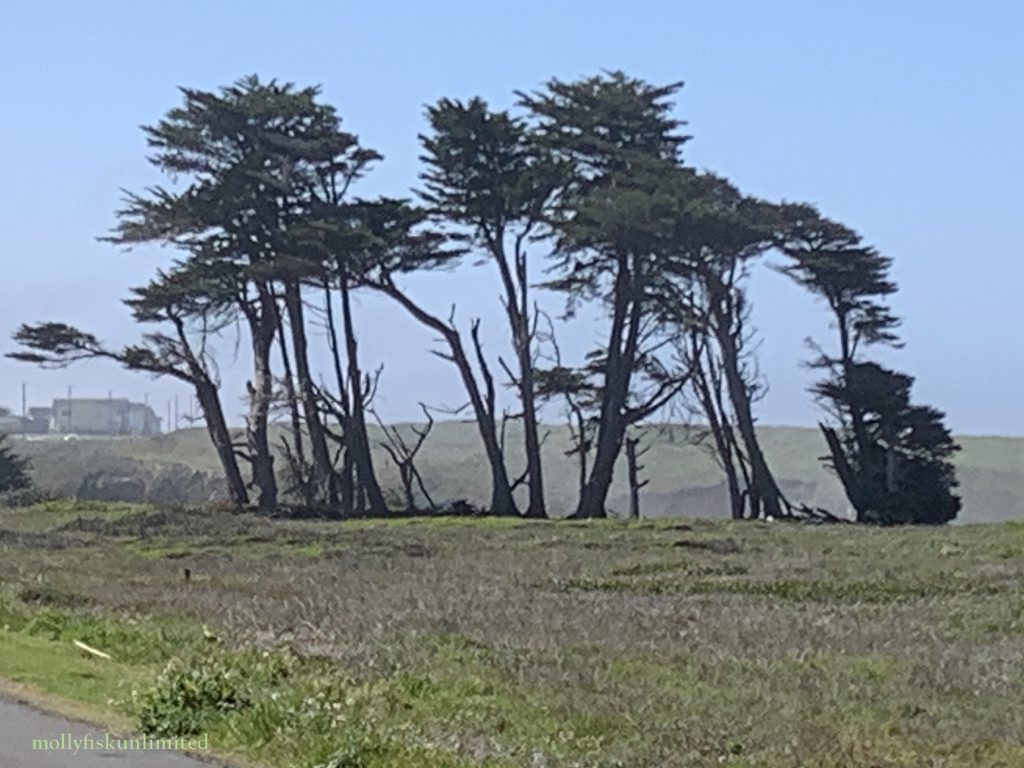 Unbeknownst to me, back inland the temperature was rising, and heat in the valley and foothills draws the fog onto land from its banks out at sea. But I did have some clear hours each day for walking and not wearing my red sweater.
I found lattes and a good Mexican restaurant for dinner, and met a very forward gray squirrel, who jumped on my balcony one afternoon, clearly expecting to be fed. My life at home is filled with skunks who think the cat food bowl is theirs, and also the cat door, so I was not going to indulge this little unit, although he or she was cute. Fast, too. At one point when the door was open he came right into my room. Luckily, he didn't climb up my leg or anything. I spoke to him firmly in Norwegian, and he went back outside. You may not know this, but all squirrels understand Norwegian.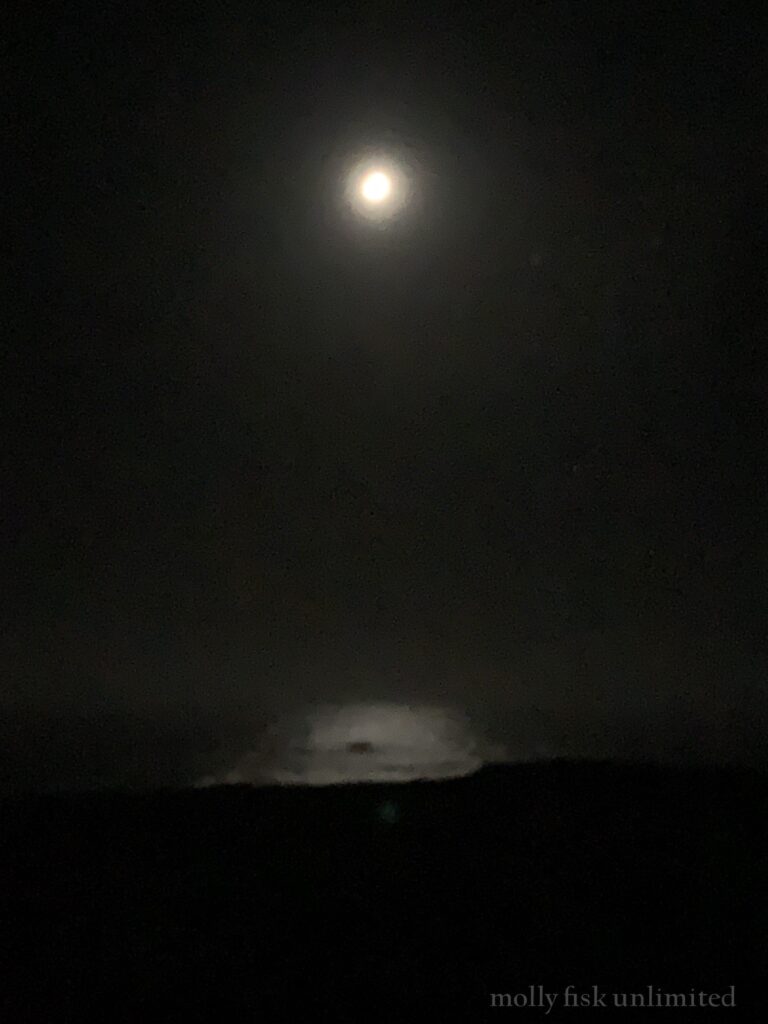 The moon was not full while I was in Fort Bragg, but my iPhone's camera didn't seem to realize this. I haven't seen moonlight on water since last August's full moon, which I watched rise over Scotts Flat Lake.
Just before I left to drive south to Mendocino and then east through the Anderson Valley to Ukiah, I visited MacKerricher Beach, a few miles north of my lodgings. The sand is not white.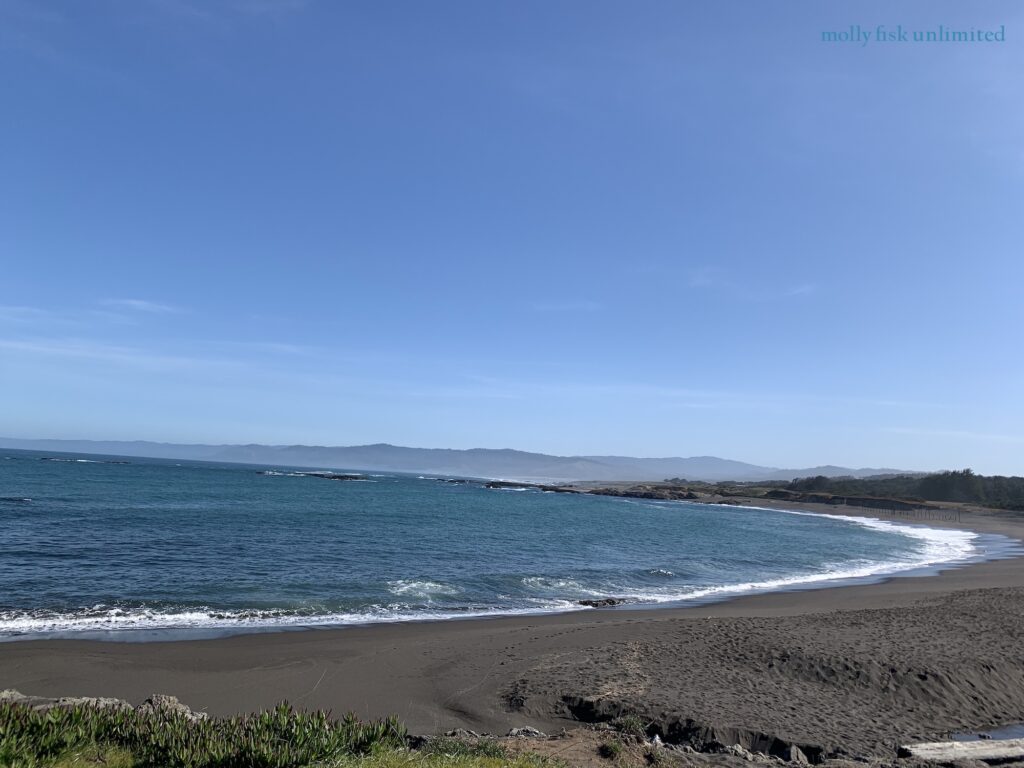 You can see the fog trying to fill up the air. It's very sneaky. But it keeps the temperature nice and steady.
By the time I got to Mendocino, the views were completely socked in by fog and I donned the red sweater, ate an expensive lunch at the recommended Mendocino Cafe, and then began my drive. New to me on these winding roads from the valley out to the coast are many signs saying you should pull over if there are cars behind you, and many pull-outs to make this possible. It was a little tricky to take off my clothes at one of these spots without being seen so I could get into hot-weather-wear, but I managed. Being intrepid in late middle age is one of my super powers.
I didn't take photos of all the apple orchards in bloom, but here are some poppies. I passed swaths and swaths of "super-bloom" locations, but you know how it is when you're driving. Hard to stop the car.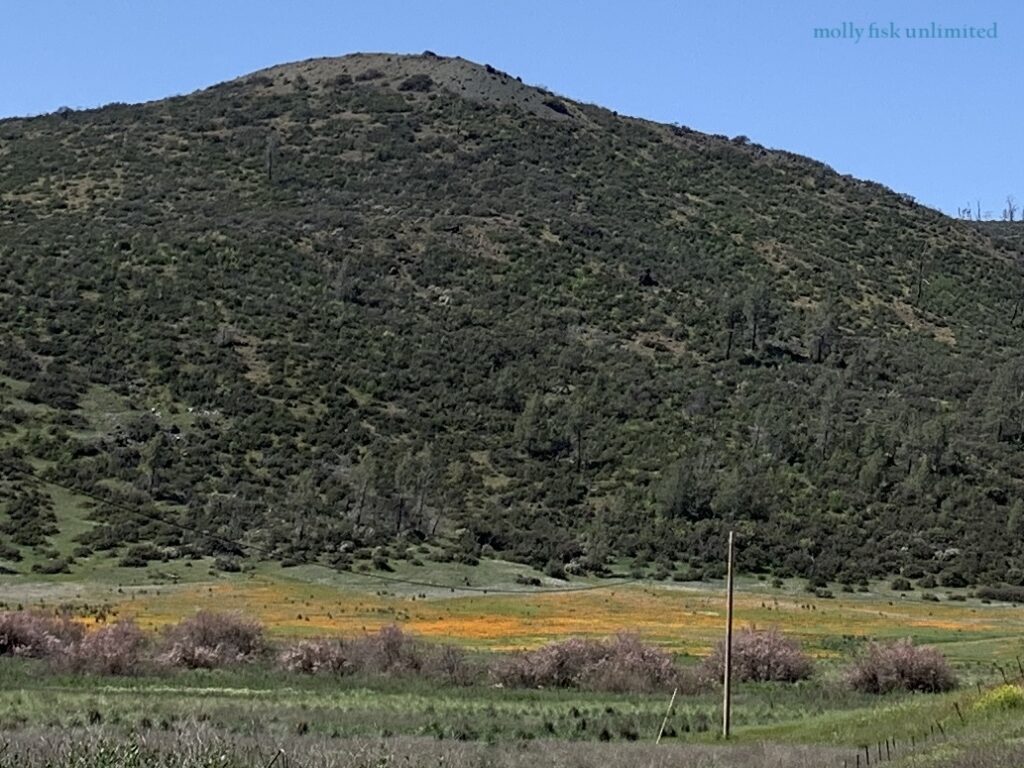 It was 93 in Ukiah and we had a wonderful reading at the Grace Hudson Museum: me and 8 or 10 poets reading at the boisterous open mic to an audience of 30. A good turn-out for a small town and a not-local guest star. I sold and signed 10 books. If they ever invite you to read there, you should say yes.