I've always had a theory that a town or city's resident doesn't frequent the tourist attractions of that town or city unless guests come for a visit. This was proved once again when my friend of 40 years, Ellen K., came to see me over Labor Day Weekend and mentioned that she loved little, out-of-the-way museums. Well, if there's one thing the Sierra foothills has, it's little out-of-the-way museums, and I've seen hardly any of them! It was hot, we knew we'd be going swimming, but a dose of history and culture is good balance for splashing around, so first we went to the Northstar Mine Powerhouse and Pelton Wheel Museum, a place whose parking lot I had driven past for two decades without going in.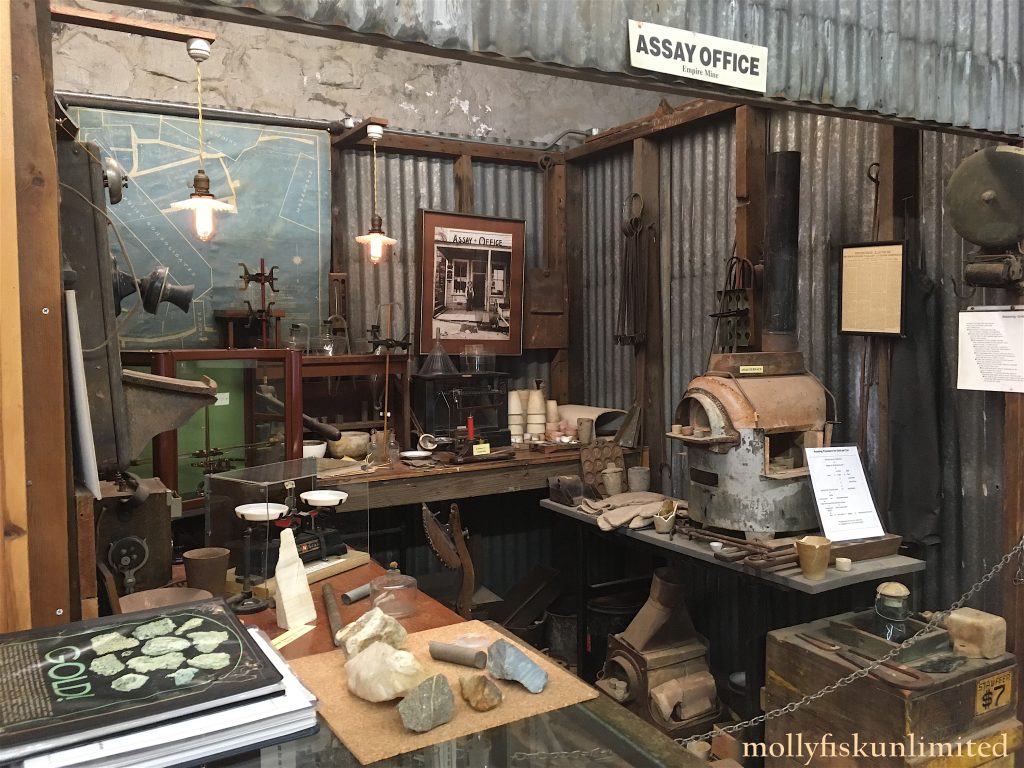 I'm a big fan of antiques and rustic whatnot, so my eyes began to sparkle at the corrugated tin walls and metal items.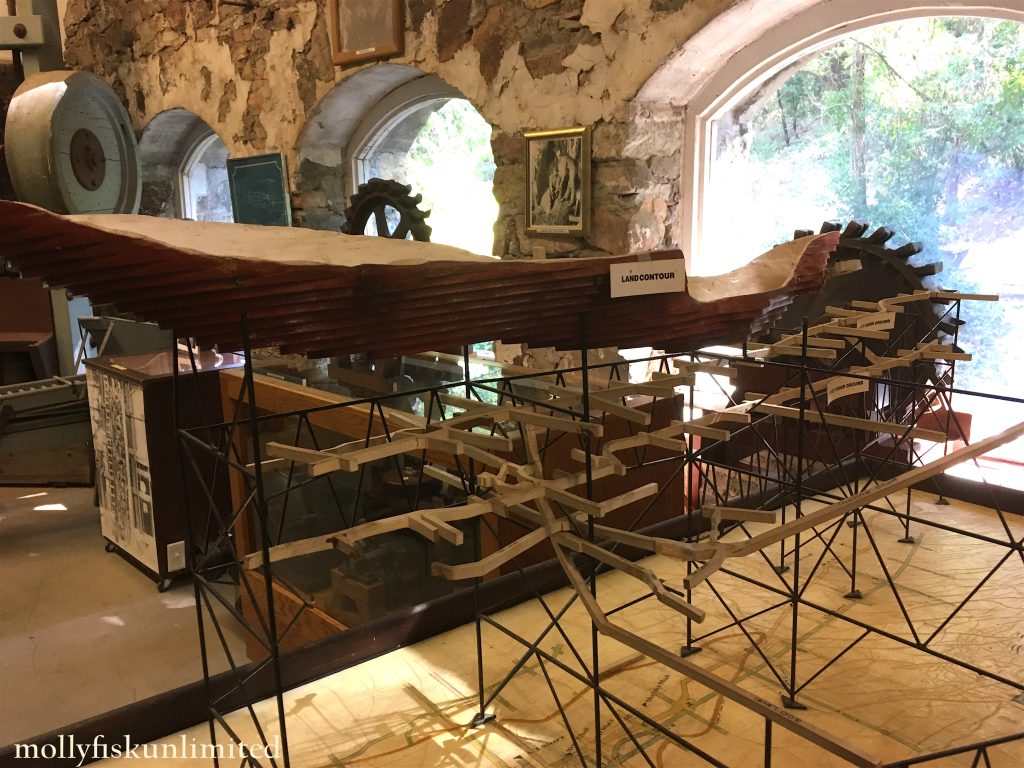 I also love seeing representations of things, like this series of mine tunnels underneath where we were standing. You couldn't pay me to go down into a mine, mind you, but I like being above ground and seeing how things work.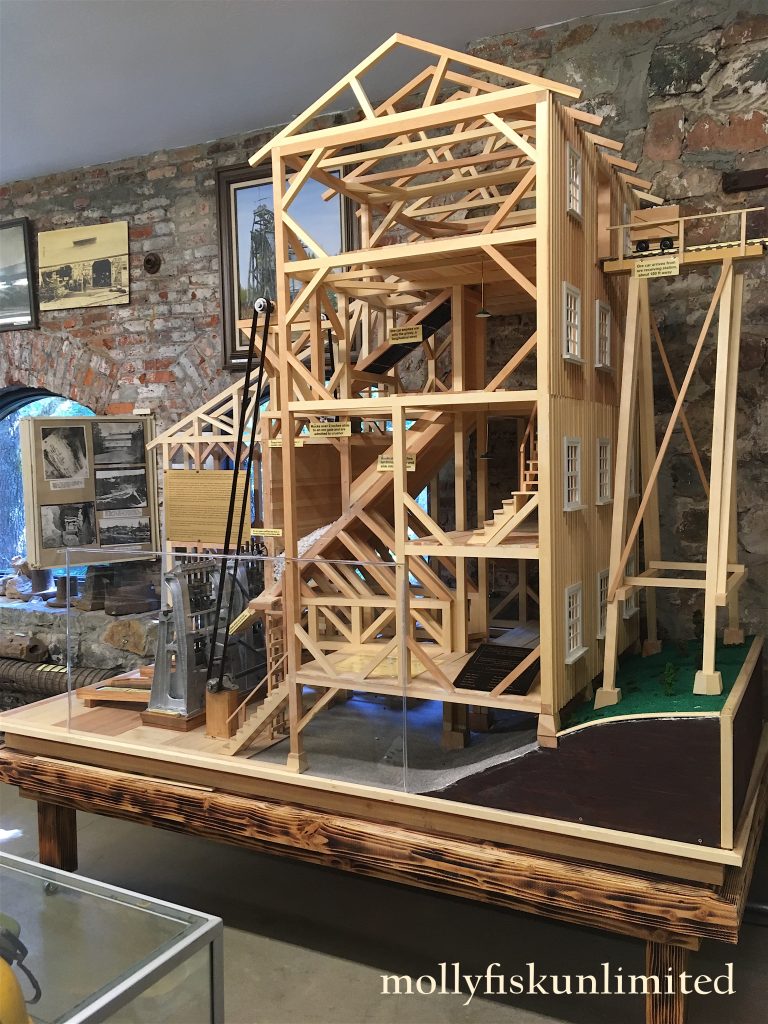 As well as old things and models, I'm a sucker for a good diorama, and fell in love with the long johns on the line here, and the deer, horse, and squirrel. I can't tell if the black animal is a panther or a bull, and worry that whatever it is, it may fall down the cliff, but there doesn't seem a way to save it from my side of the glass.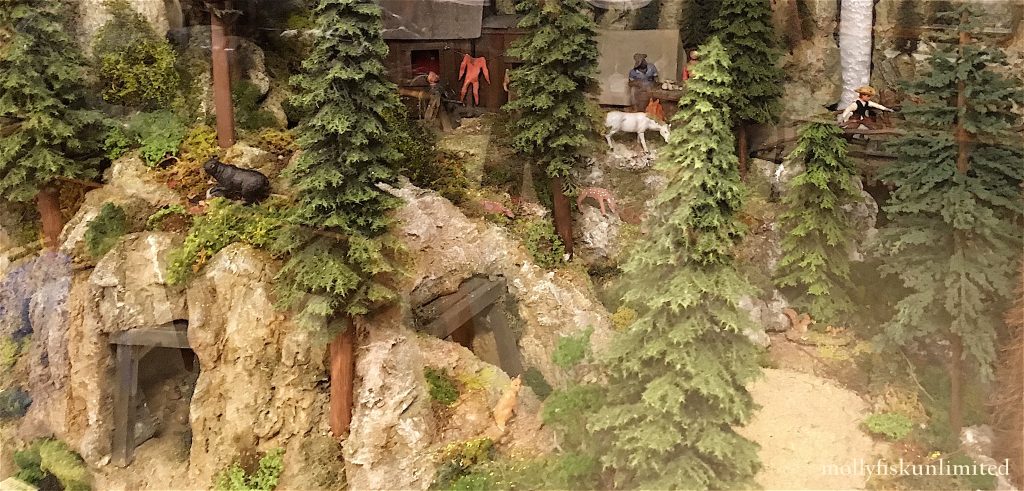 I'm not quite sure how a sailing ship model got into a mining museum: we are nowhere near the coast. Perhaps this is just to remind us that the gold discovered in Nevada County was transported around the world, often by ship.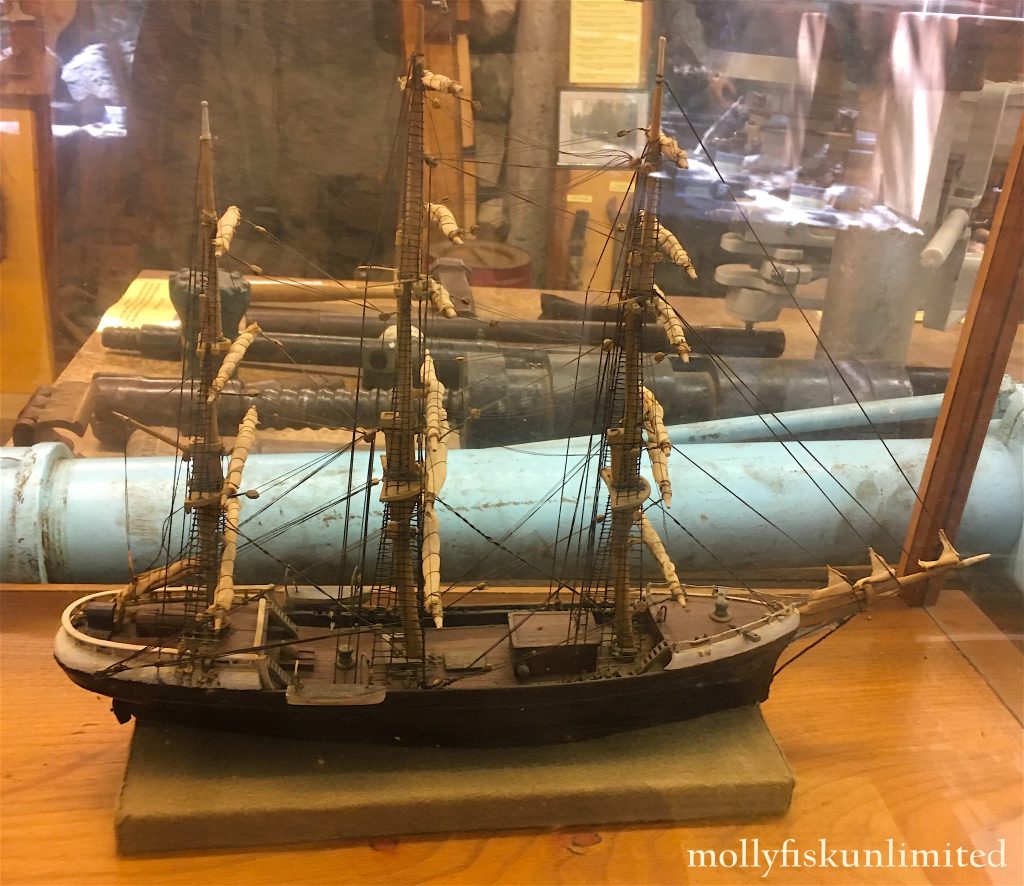 Speaking of ships (I digress, as usual), Ellen and I have differing views on which sea-faring novels are best. She loves C.S. Forester's Horatio Hornblower series, while I am devoted to Patrick O'Brian's Aubrey-Maturin books. Same time period: the Napoleonic Wars of the early 1800s (50 years before these mines opened). This is one of the few literary points on which we differ.
I was fascinated by this list of Bell Signals, which looks to be from an early precursor of OSHA (note the effective date: May 7, 1946). Also check out the nomenclature "at the collar of the shaft." I'm going to have to go look that one up.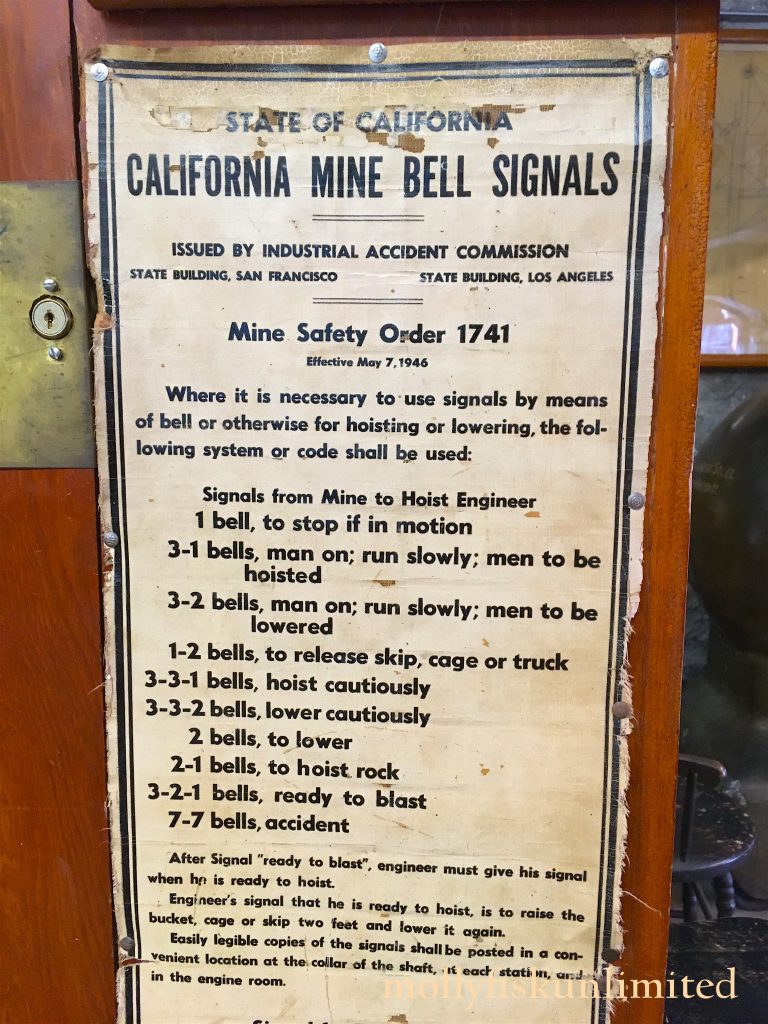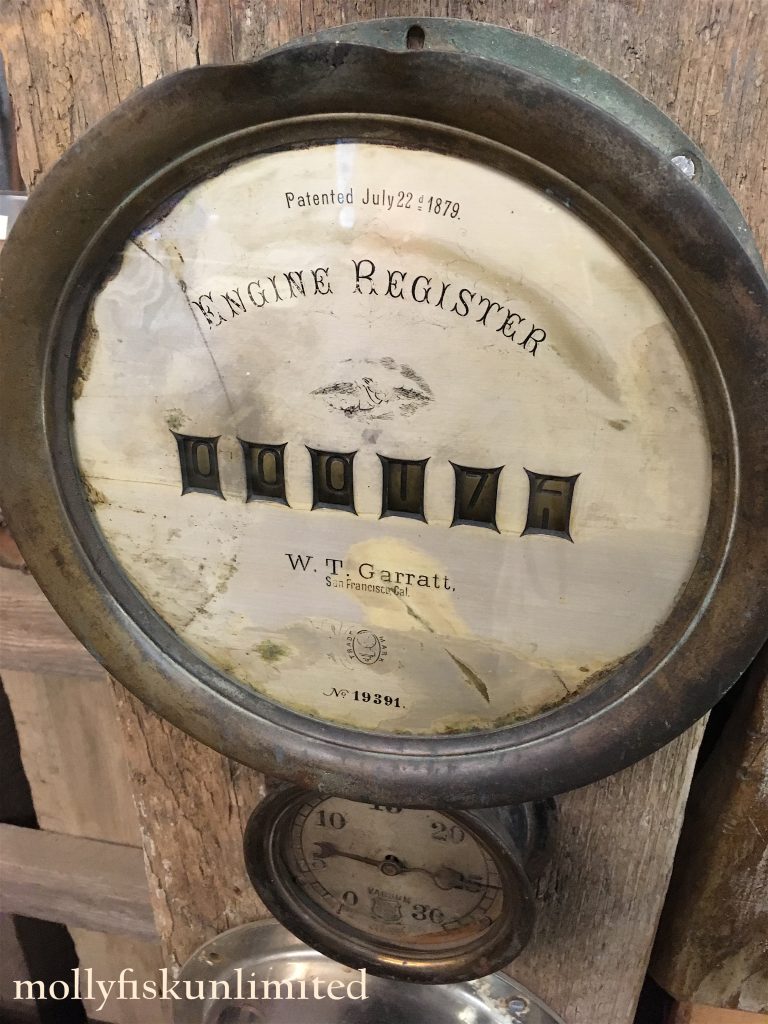 As anyone can see, this is an Engine Register, but I have no idea what it does. Patented 75 years and 51 weeks before I was born. I love the round shape, like a maritime clock or a porthole isn't it?
And mirroring perfectly the rather larger circle of the indoor Pelton Wheel — 30 feet in diameter: the largest Pelton Wheel ever made — which this building was created to surround. Pelton Wheels were invented to move water and/or air, by the buckets attached to the rim.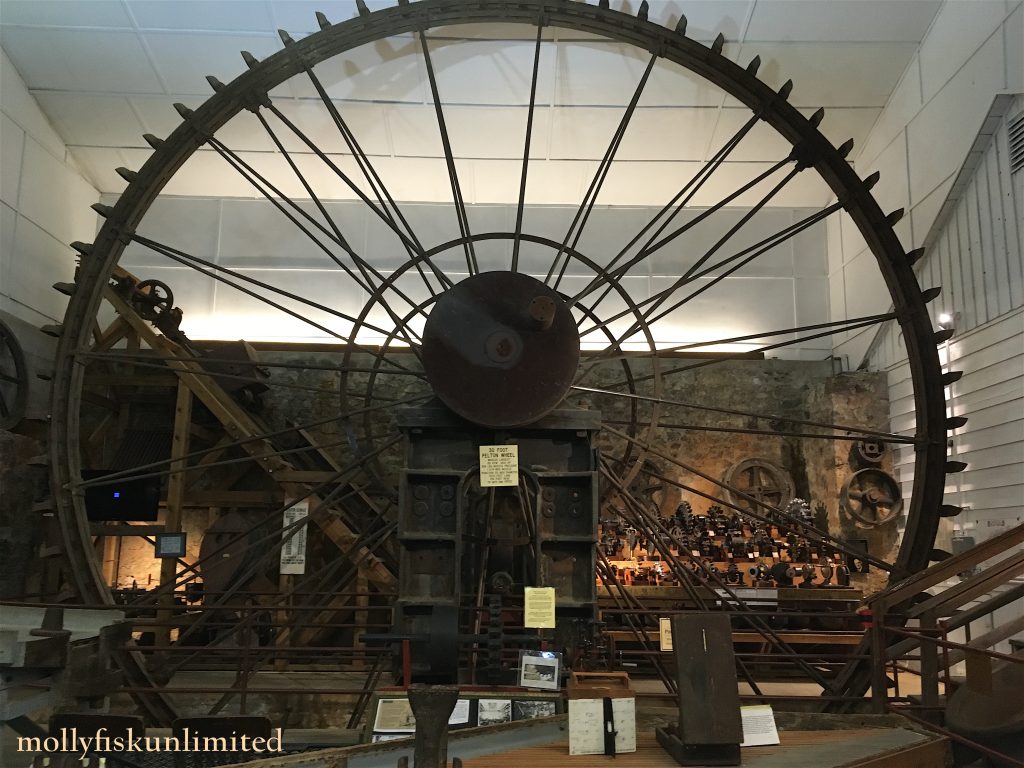 See? Buckets. This is a different wheel, outside. There's also a big one in Robinson Plaza in Nevada City, right by our old Assay Office building at the bottom of Commercial St.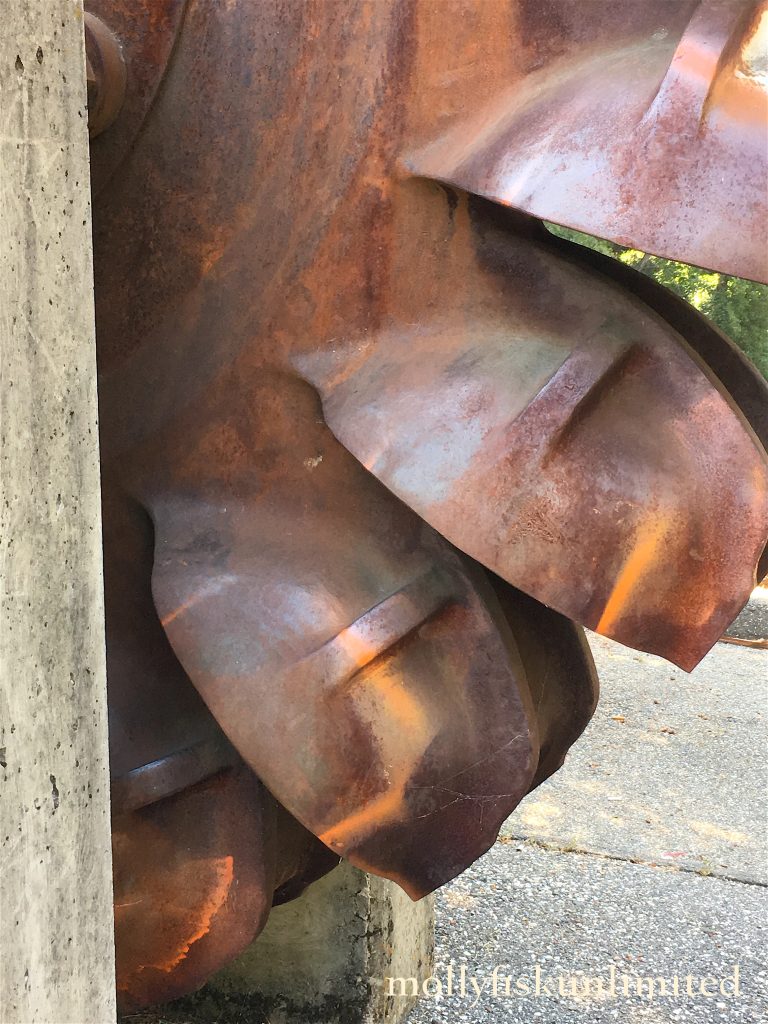 Moving from big wheels to small clay balls… You may not know that before I was a writer I did a lot of work with small businesses, especially bookkeeping (for restaurants, not mines). So the mine office's cash register caught my eye.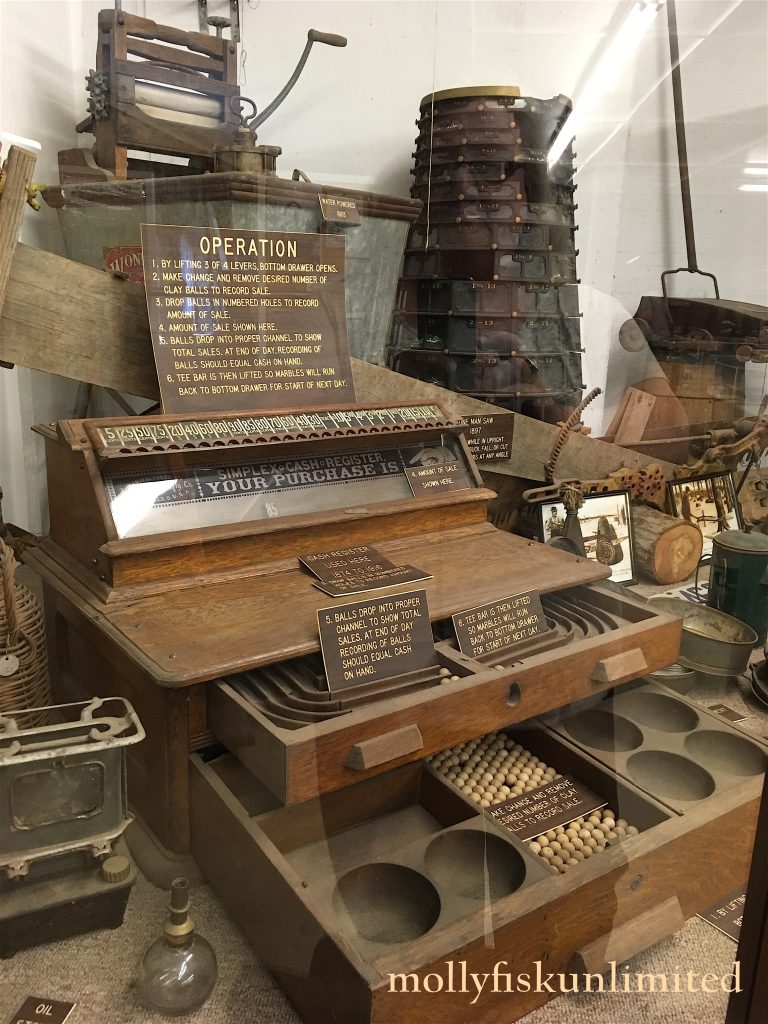 Here's the full unit and its clay marbles, with details in the next two photos.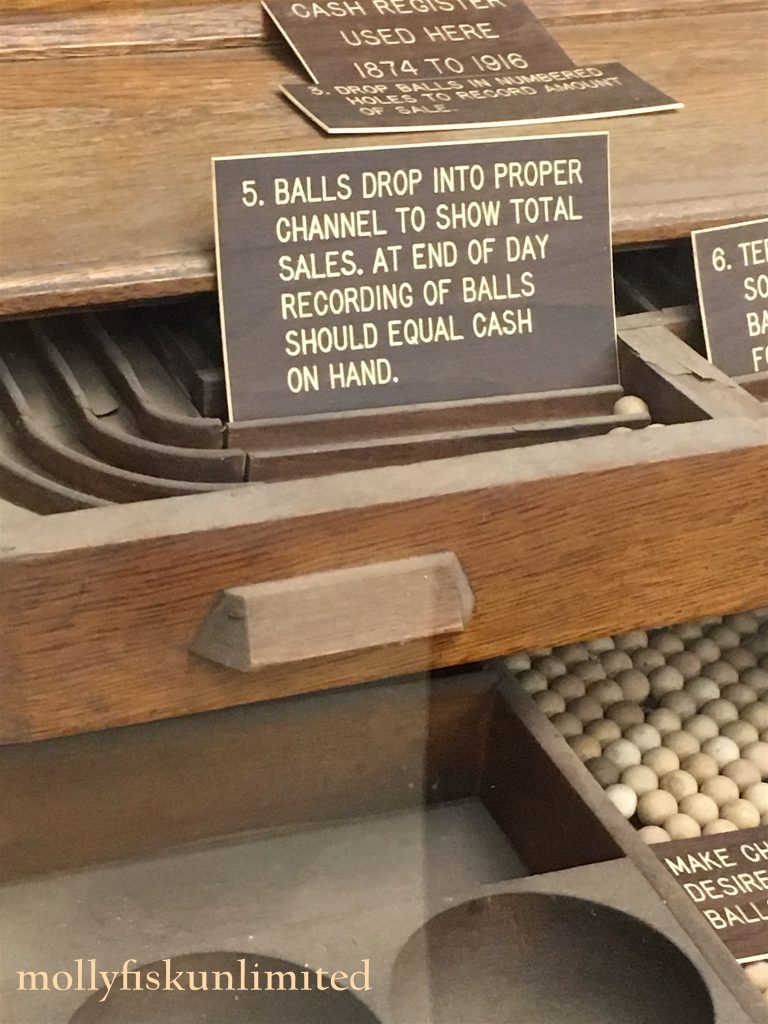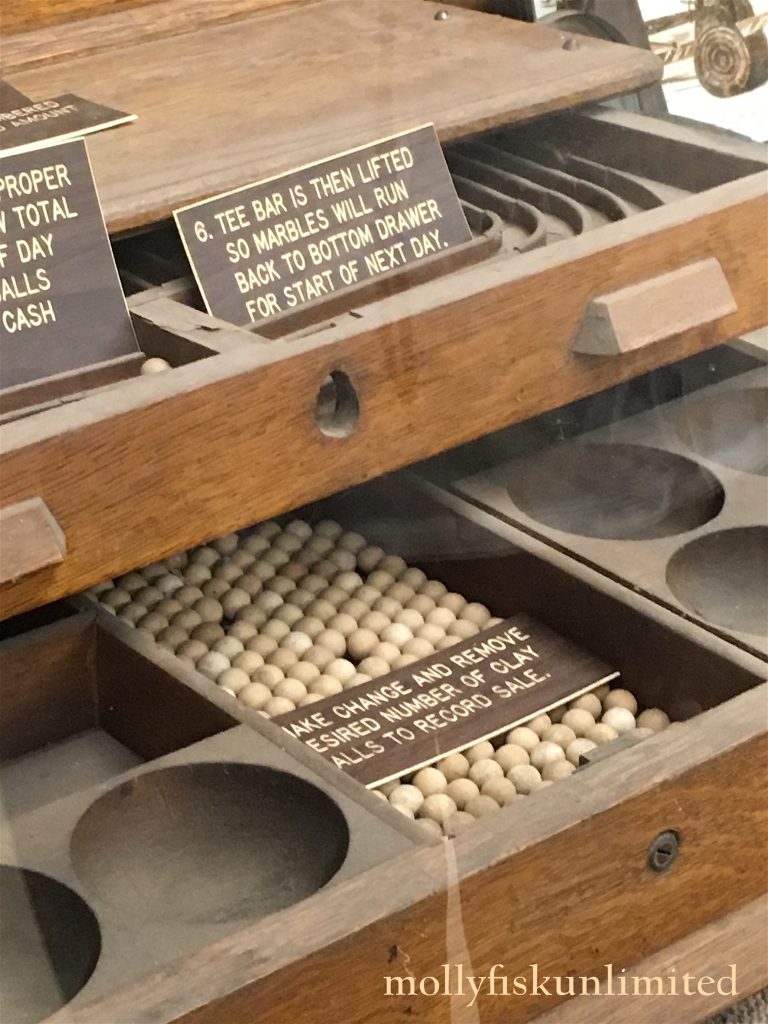 Don't you love it? And who knows where the actual money went, while people were busy sending clay balls down curved tracks…
Some of the best features of this museum were the thick stone walls and the gorgeous light coming through all the windows. Really, you should visit right away, don't wait for out-of-town guests. Rainy winter days are just as good as overly hot summer ones to take a peek at history, and it's a great place to bring kids because the docents have tricks involving motion and sound (no spoilers here, you have to come find out). Admission is by donation.
I'm a writer. This is my work.
If you found this post interesting, entertaining,
or otherwise helpful, please consider sharing it
with your people and supporting my writing directly
through Patreon or Paypal (mollyfisk at gmail).
Signing up for the RSS feed is also a dandy idea.
Big love and many thanks!
xo Molly