Earlier this month, I went back to New England for my Aunt Mary's funeral. This was sad, beautiful, heart-warming, and difficult. The best part, besides seeing so many people I'm related to and don't get to spend enough time with, was staying with my cousin Michael for two days in his house full of art. His own art, and that of family members and friends.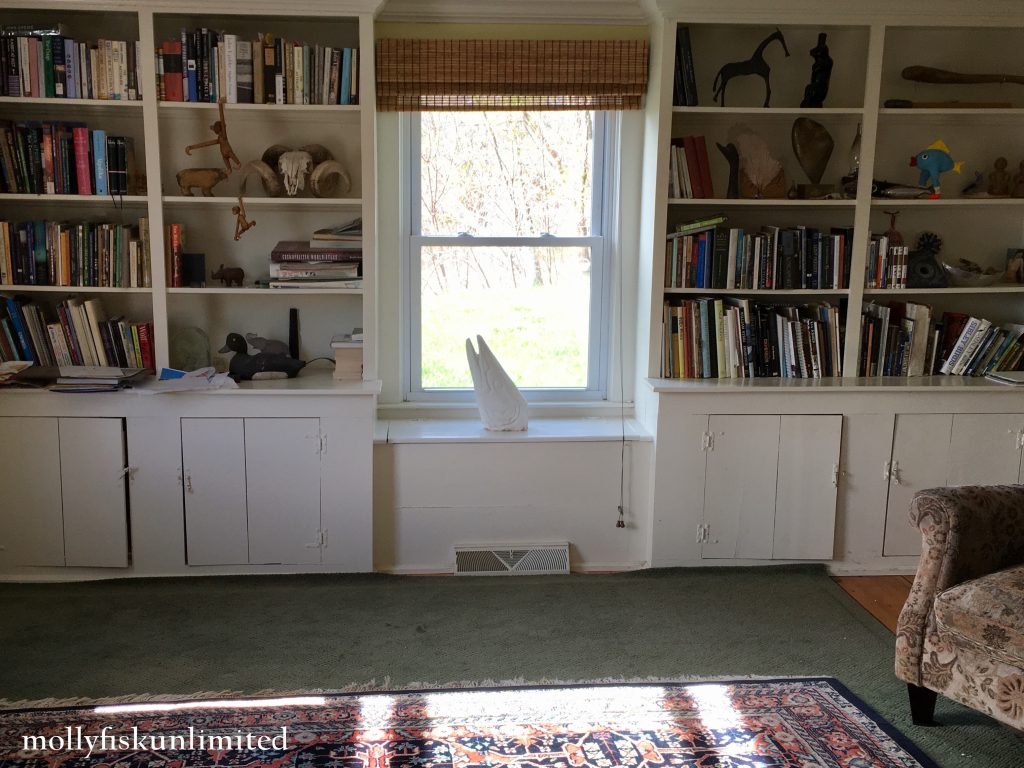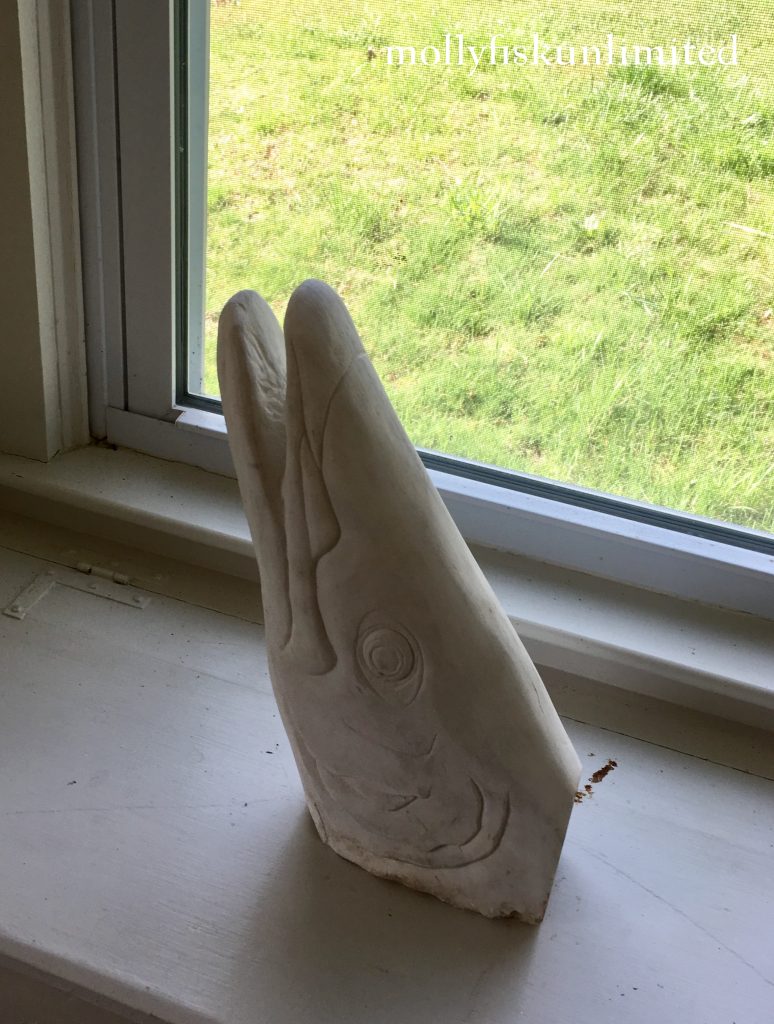 Michael has often worked in three dimensions: for quite a while he's been a sculptor/designer for the housewares company Mariposa and seen his work mass-produced in shiny metal and ceramic. I treasure an ice cream scoop shaped like a nautilus that Mary gave me for Christmas once, and have my eye on this sea urchin bowl.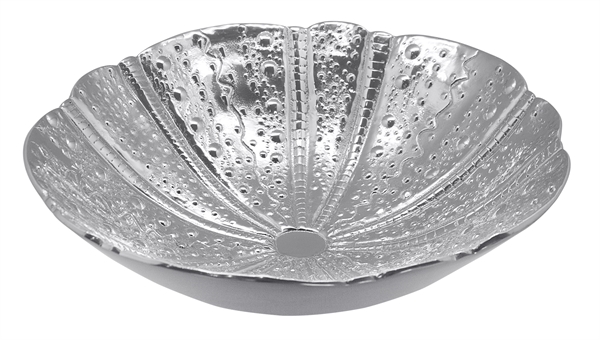 But in the last few years he's branched out to include slate and marble, making one-of-a-kind carvings and gravestones.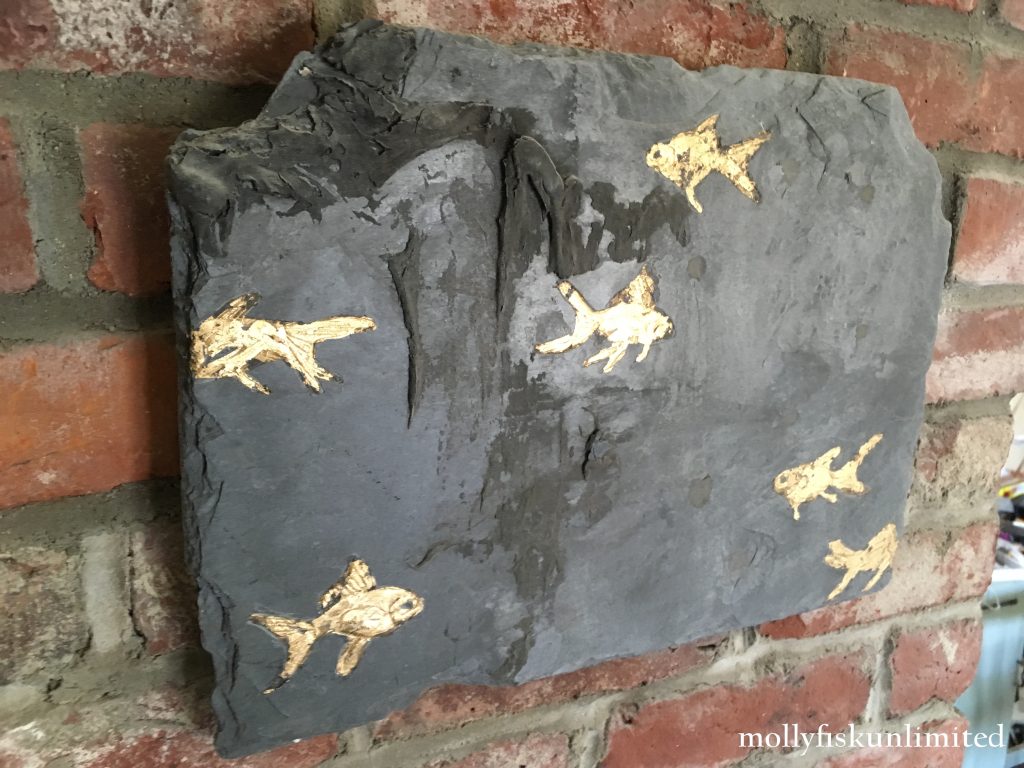 Since he lives in coastal New England, where old slate roof tiles are numerous, he's done a lot of smaller carvings on them. They're a good size for his work, which is often nautical, avian or both, and lend a wonderful texture and a nice sense of history. He makes single carvings, but also diptychs and triptychs, and sells them at art festivals around the Northeast.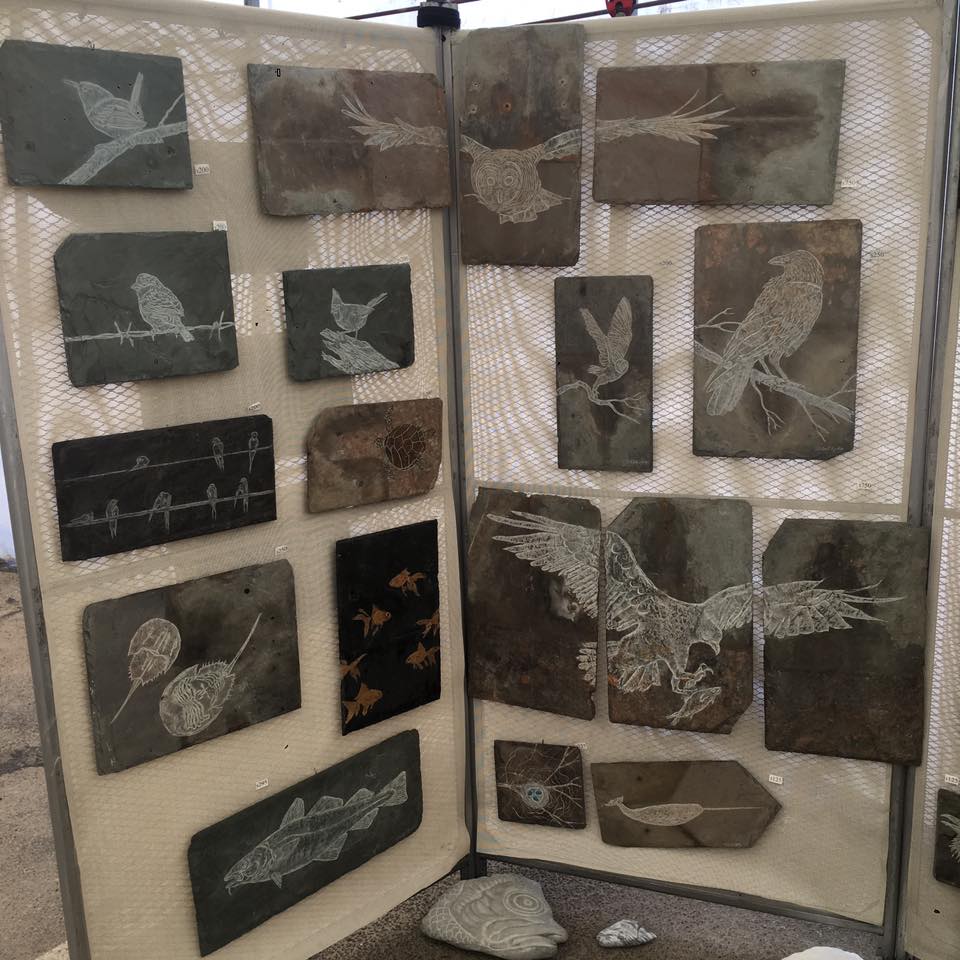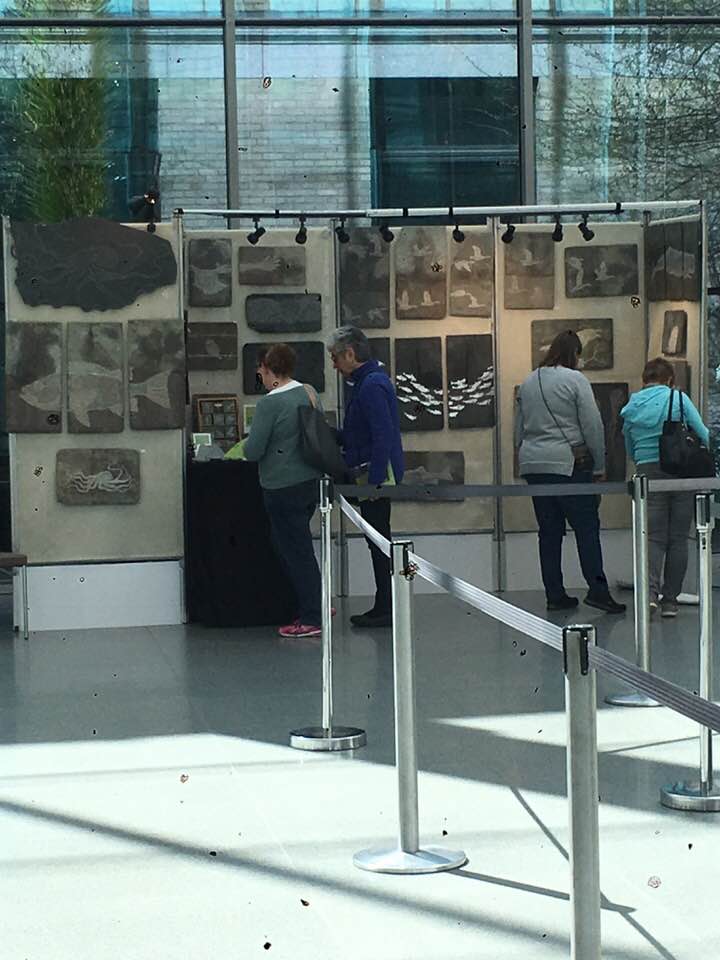 Pretty much everyone in our extended family has a sense of humor, and one of the things I like about the work Michael has up in his house is the tongue in cheek nature of some of it. His birch bark shark, for instance, a nod to our grandparents' love of and summer residence in northern Vermont, where many of us made toy-sized birch bark canoes and floated them in the (shark-free) Dowsville Brook.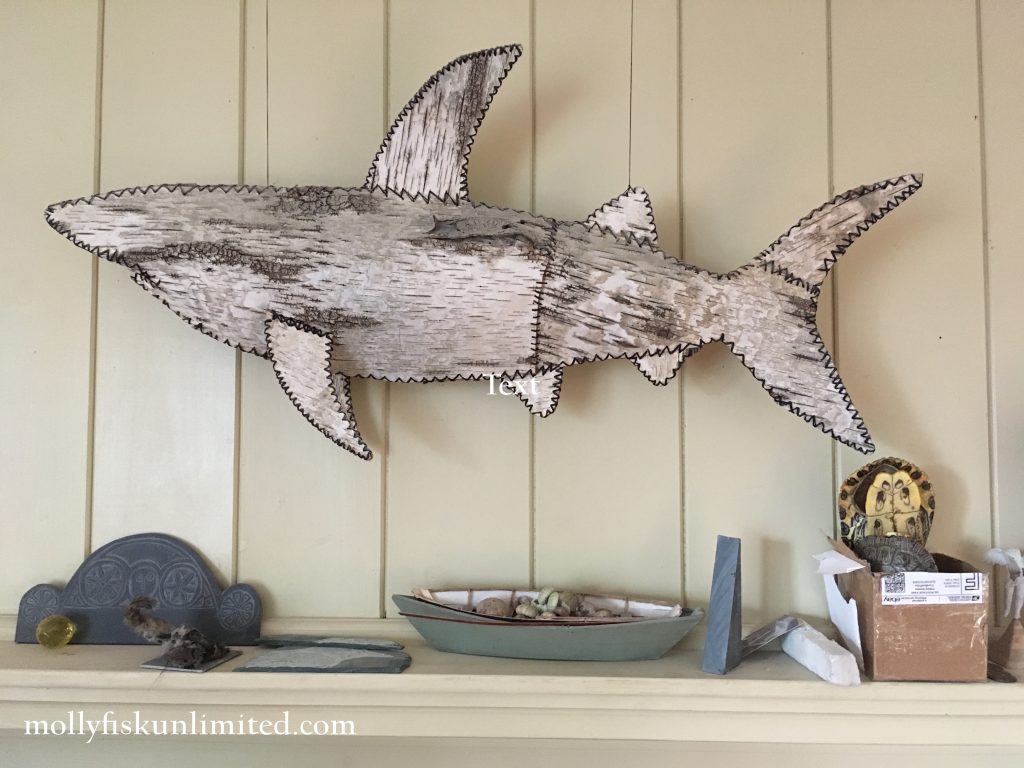 And his commentary on the "fish stories" so often heard at the end of a long day on the water, about how truly enormous someone's catch was, shows up in this mixed media piece hanging in the bedroom where I slept. My dreams were not about Moby Dick, or Ernest Hemingway, thank heavens.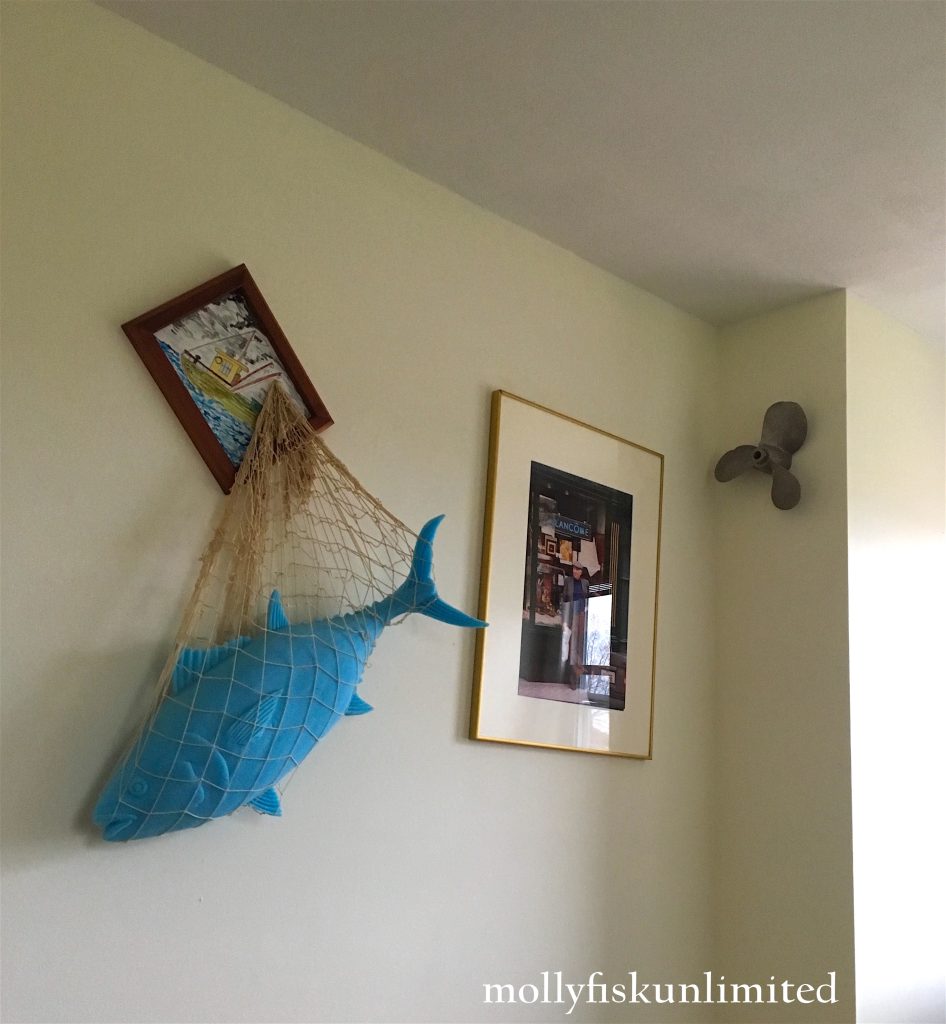 I'm very fond of his fishing lure mobile, which hangs near but not over the kitchen table, and moves whenever there's a breeze. It's a lovely combination of graceful and goofy.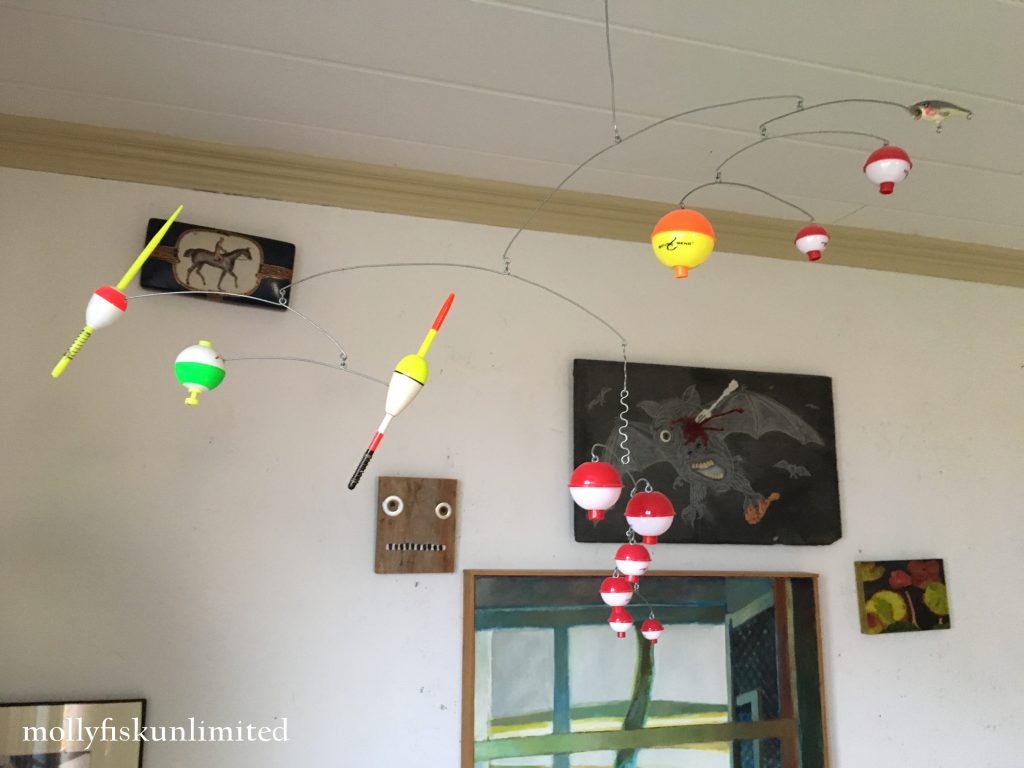 Michael works in a studio attached to his house. The smaller pieces can be done at a table; the gravestones are propped up in wooden feet made for the purpose, so he can chisel on front and back while standing.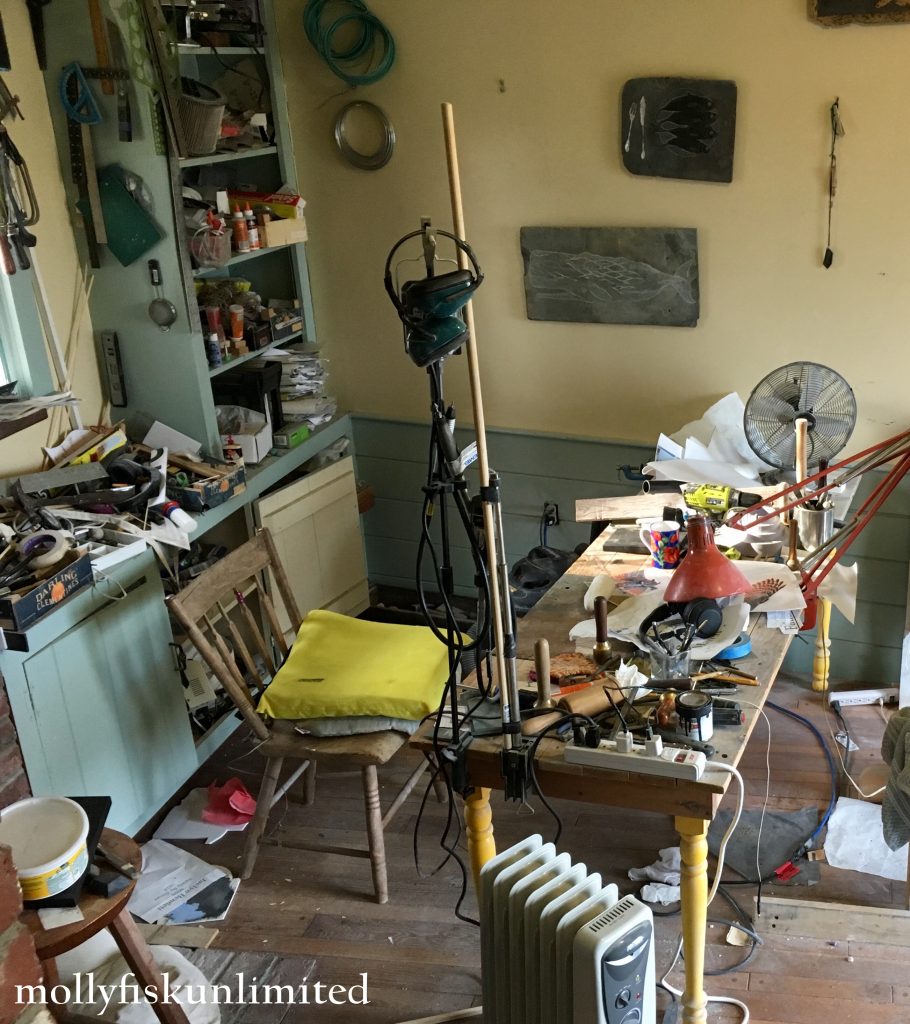 For each of the past few years, Michael's made his own gravestone, with a death date undetermined. I swallowed hard when I first heard this, thinking he might be tempting the gods too much. But now I've calmed down and just think it's funny. And perhaps a good way to stay in practice. The idea's a little reminiscent of the sewing samplers New England schoolgirls made to prove they could master every stitch.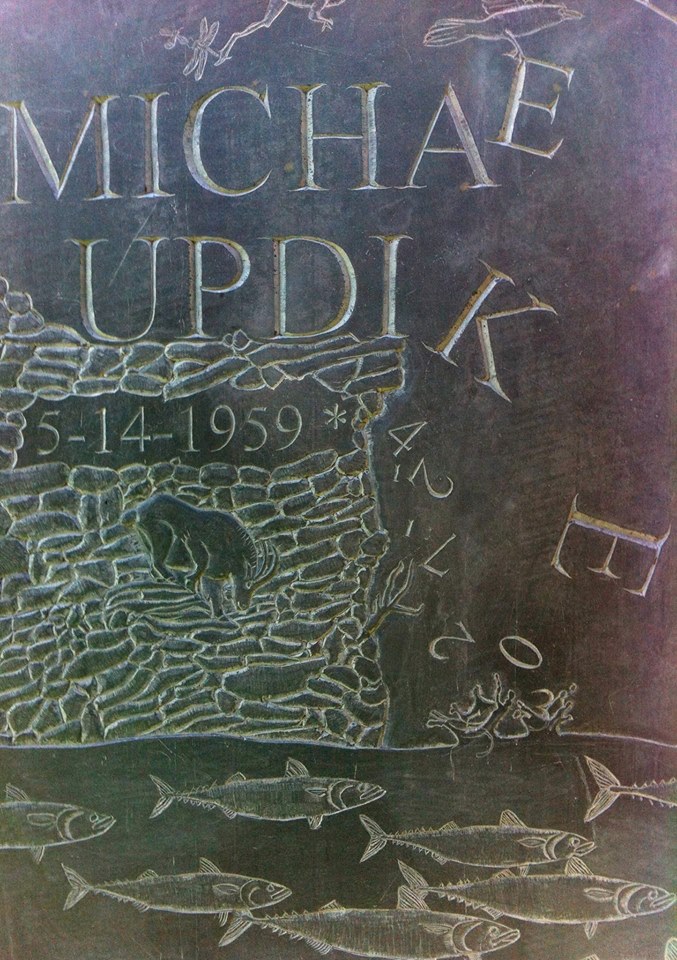 As well as art, Michael displays some amazing collections. He's spent much of his life near the rivers that empty into the Atlantic, and made a habit of picking up odds and ends, some of them treasure thrown away when towns still followed the practice of heaving their trash into the river. Glass and ceramic are the older elements that have lasted, and he's found many a doll's leg and perfume bottle. Now there's metal and plastic too, mostly things we think of as unbeautiful, but look at that wonderful lobster and the double-decker London bus.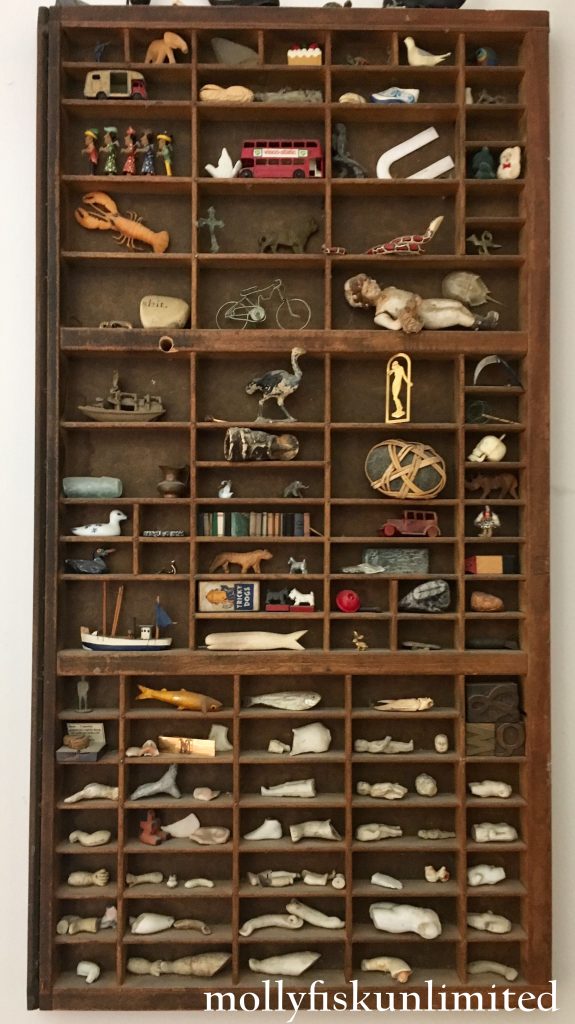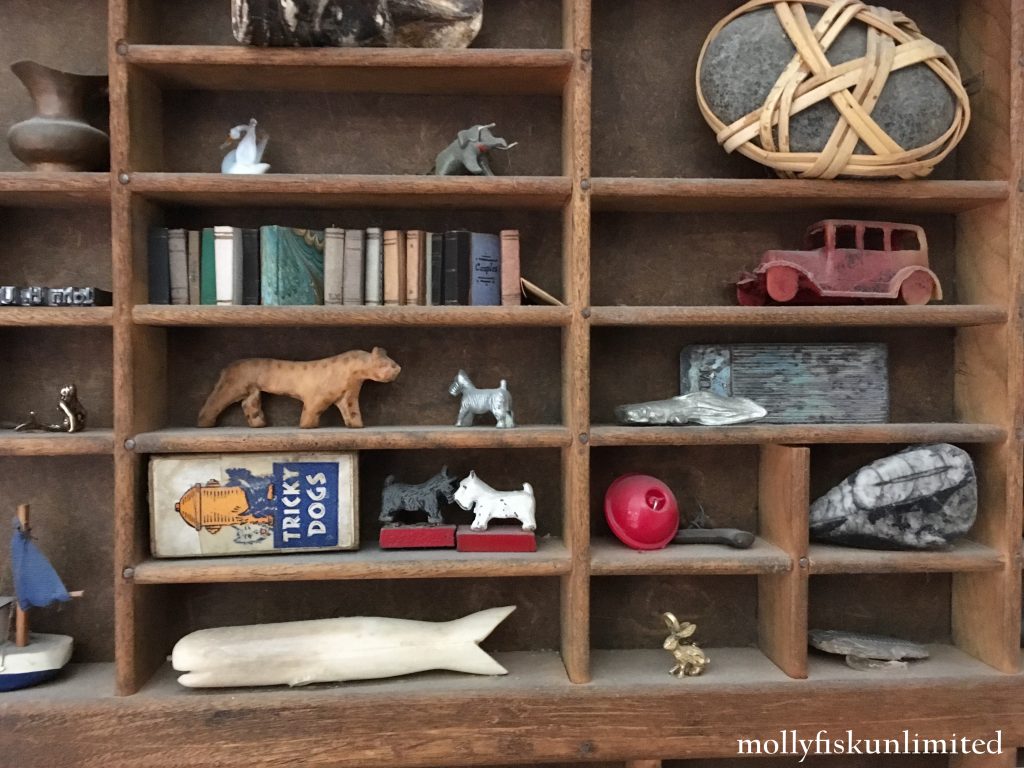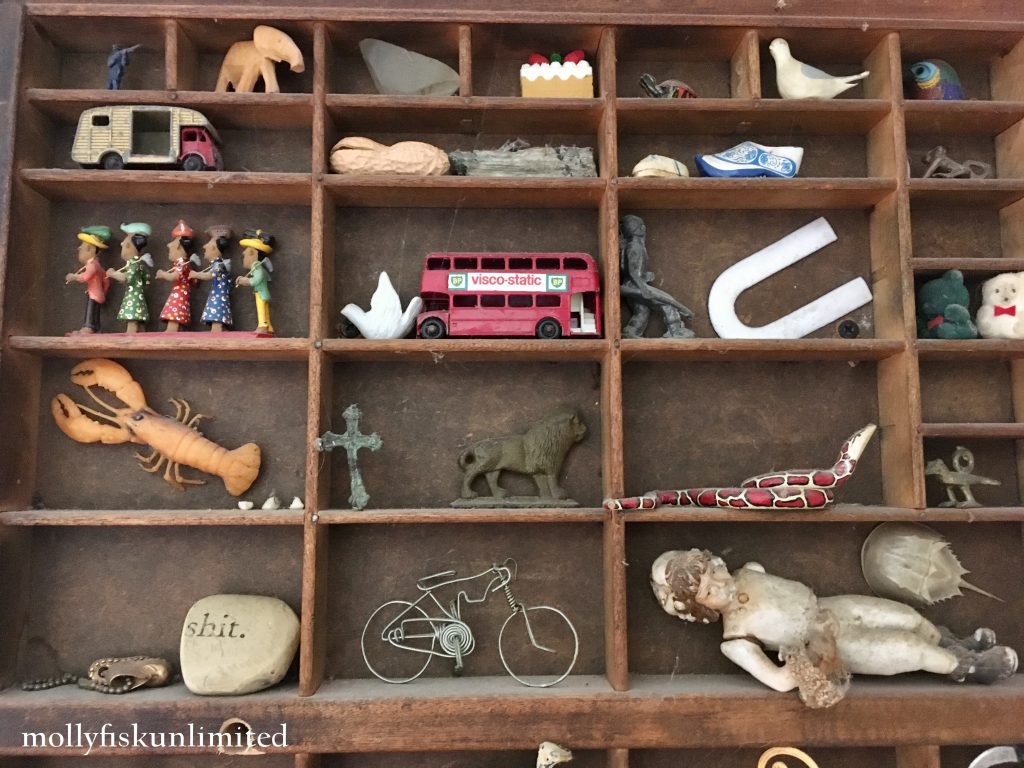 I didn't write any poems while I was back east, there was so much going on. But I left Michael's house feeling inspired and restored, ready to get home and get to work. When people are truly being themselves, pursuing what interests them and giving us a look inside their heads and their hearts, the feeling of possibility is contagious. I think we get permission from their example to do the same, which is part of the freely-flowing gift and generosity of all art.
To see more of Michael's work, visit his website here, and his Facebook page here, where he posts his schedule of shows. I'm not going to give you his address, lest you drive over there and bother him at work, but just know that if you should ever come across any penguins while exploring New England back roads, you may be getting close.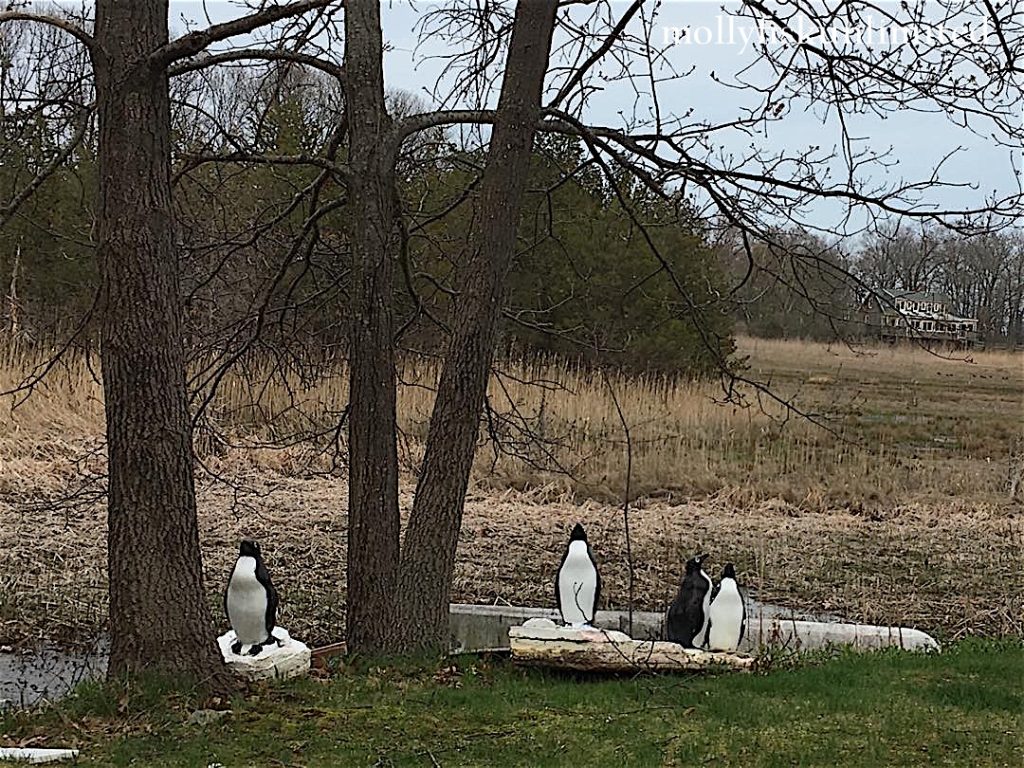 I'm a writer. This is my work.
If you found this post interesting, entertaining,
or otherwise helpful, please consider sharing it
with your people and supporting my writing directly
Signing up for the RSS feed is also a dandy idea.

Big love and many thanks!