I can't leave you on the road to Chinle for too long, you'll get overheated! Sandy and I drove into Thunderbird Lodge in the late afternoon (this gorgeous Navajo-run lodge is inside the grounds of the national monument), and took everyone's advice to go look at Canyon de Chelly at sunset from the south rim. You might not believe it, but we actually follow advice well.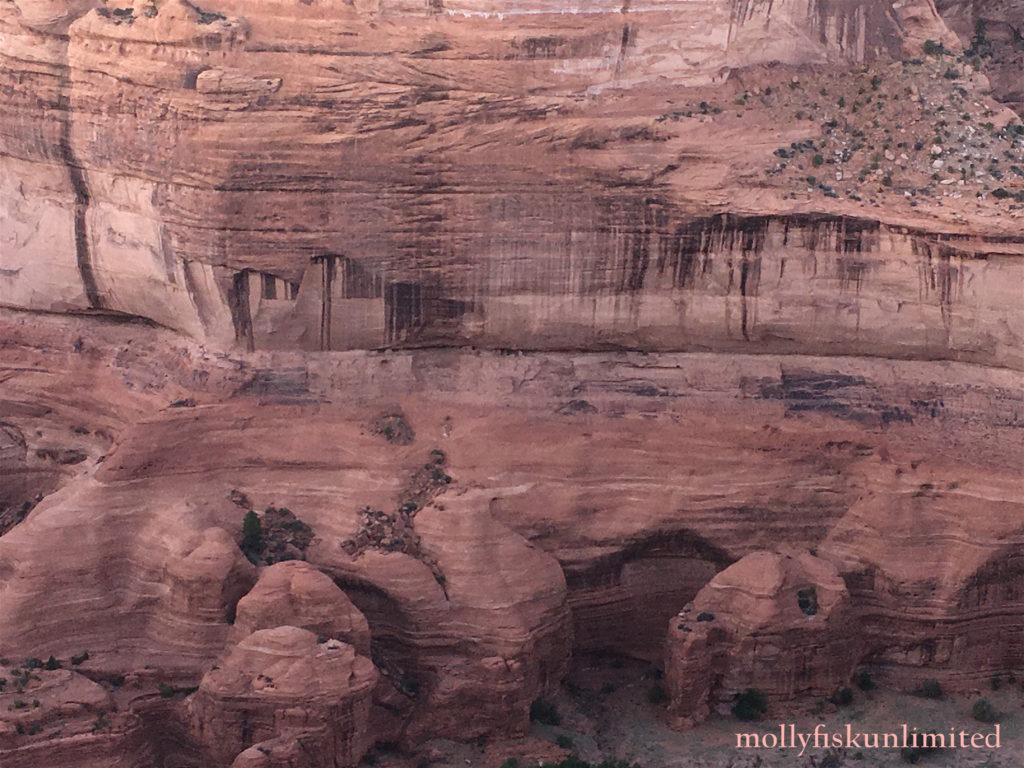 In both light and shade the colors were amazing. There are Anasazi dwellings throughout the canyon, not intact: these are the remains of where people lived high above the flooding rivers. Later on, people farmed the bottomland, so there are fruit trees and cottonwoods down there now, and grazing cows. We met a man in one of the parking lots selling his paintings of the canyon who said his grandmother had farmed down there and he'd visited a lot when he was a kid. My policy while traveling is to believe everyone when they tell me stories. It just feels better.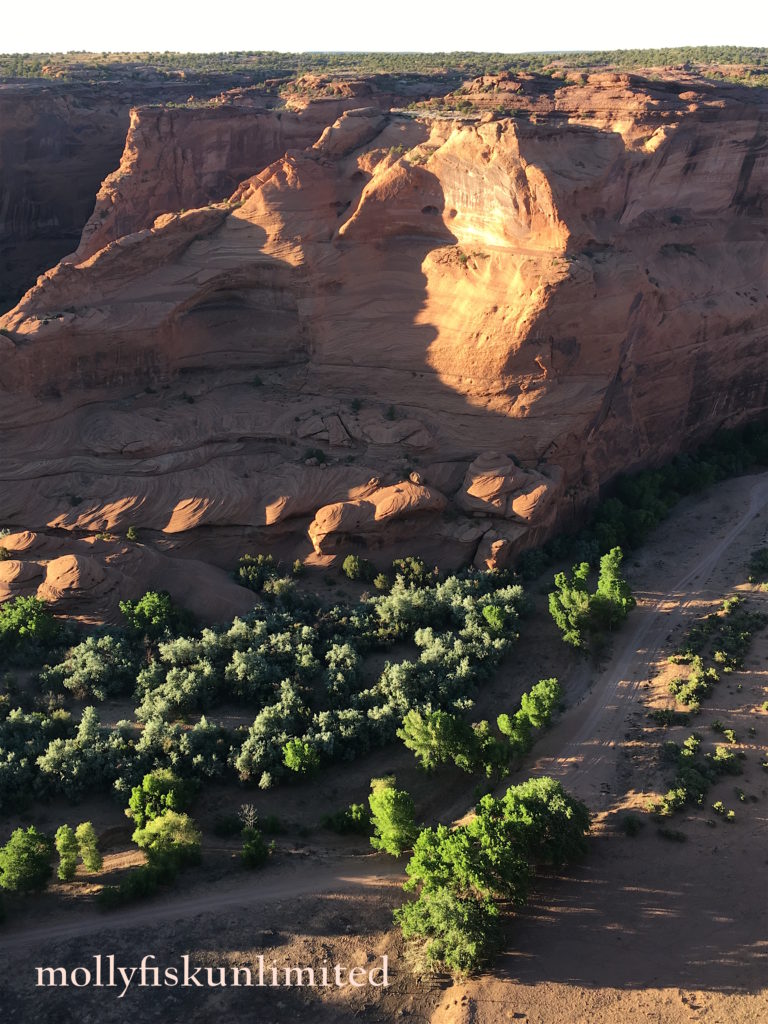 The road through the canyon is used by cows and trucks, but also half-day and full-day jeep tours, which is something we'd like to do when we return.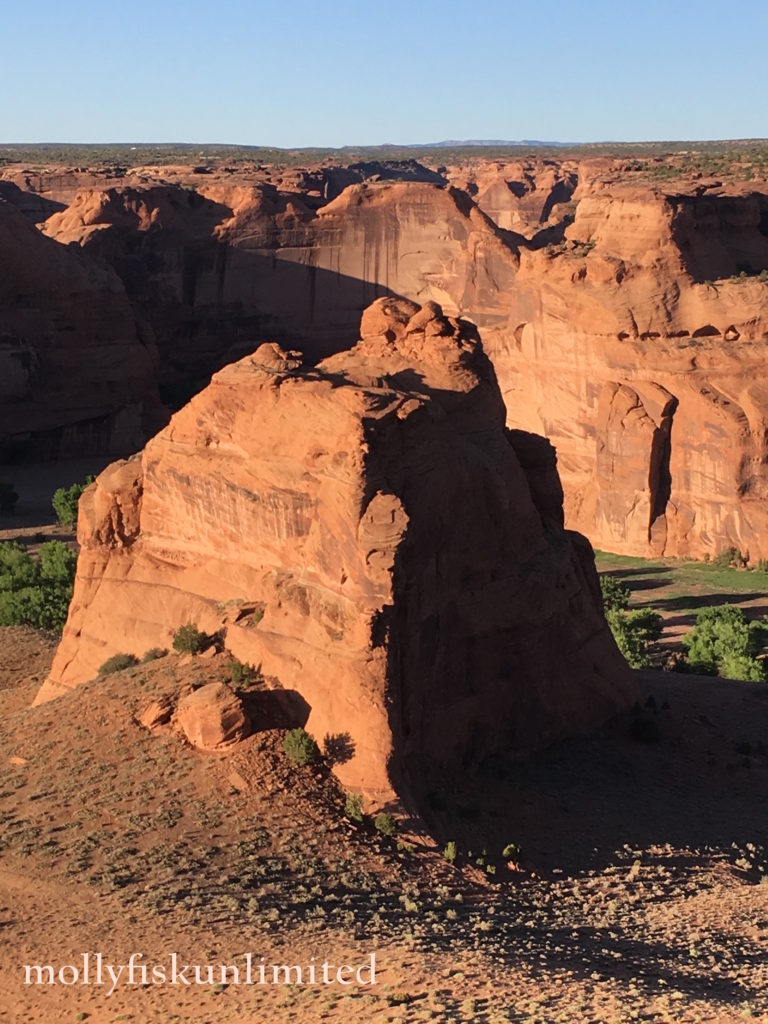 The size of Canyon de Chelly feels more manageable to me than what I saw of the Grand Canyon, which is almost too vast for my mind to take in. And too old. This one is deep and stunning, but of a scale that made sense to my brain. Also, there were only three other cars out nosing around, which was just the right number. And this handy low-tech piece of equipment…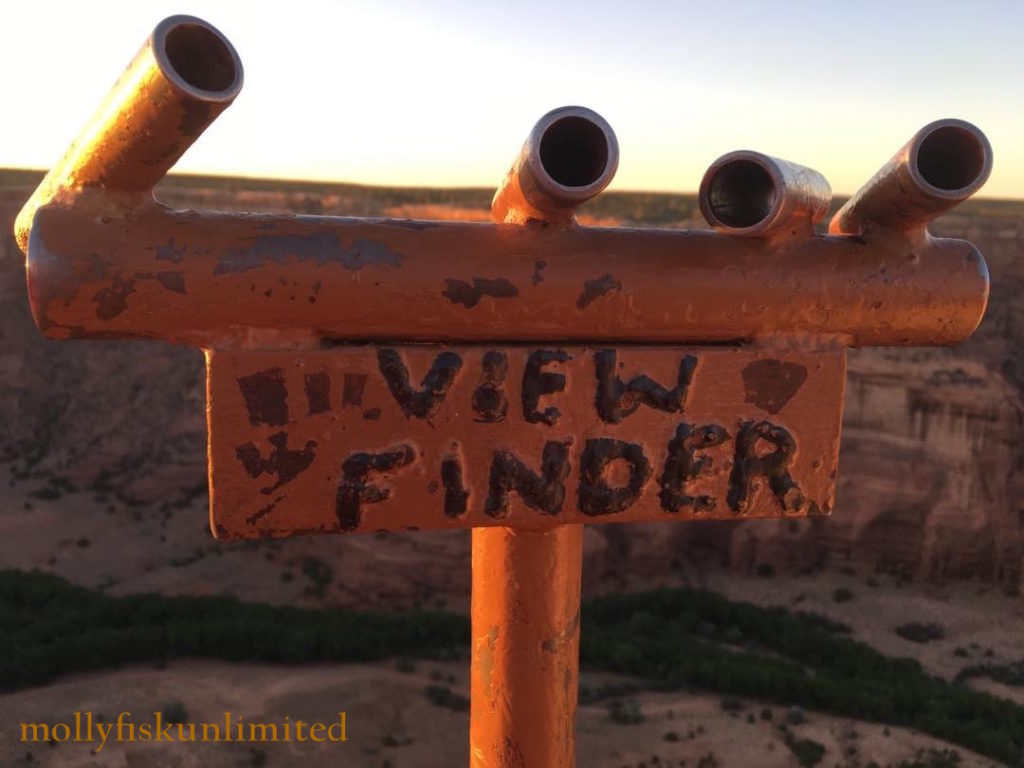 That night at the Lodge's restaurant we ate fry bread in various forms. Mine was a hamburger bun, Sandy's was accompanying mutton stew. I had not tasted this before, and it was predictably delicious, as so many deep-fried things are… The next morning we took off along the north rim, heading east across New Mexico. We passed through beautiful terrain and Hopi, Navajo, Zuni, Shoshone, and Jicarilla Apache reservations, and then the iconic Shiprock hove into view, famous to many via the mystery stories based in this area by Tony Hillerman. My photo is dreadful for many reasons, but mostly because I was taking it through a car window at 65 mph and zooming. My apologies, but you get the idea.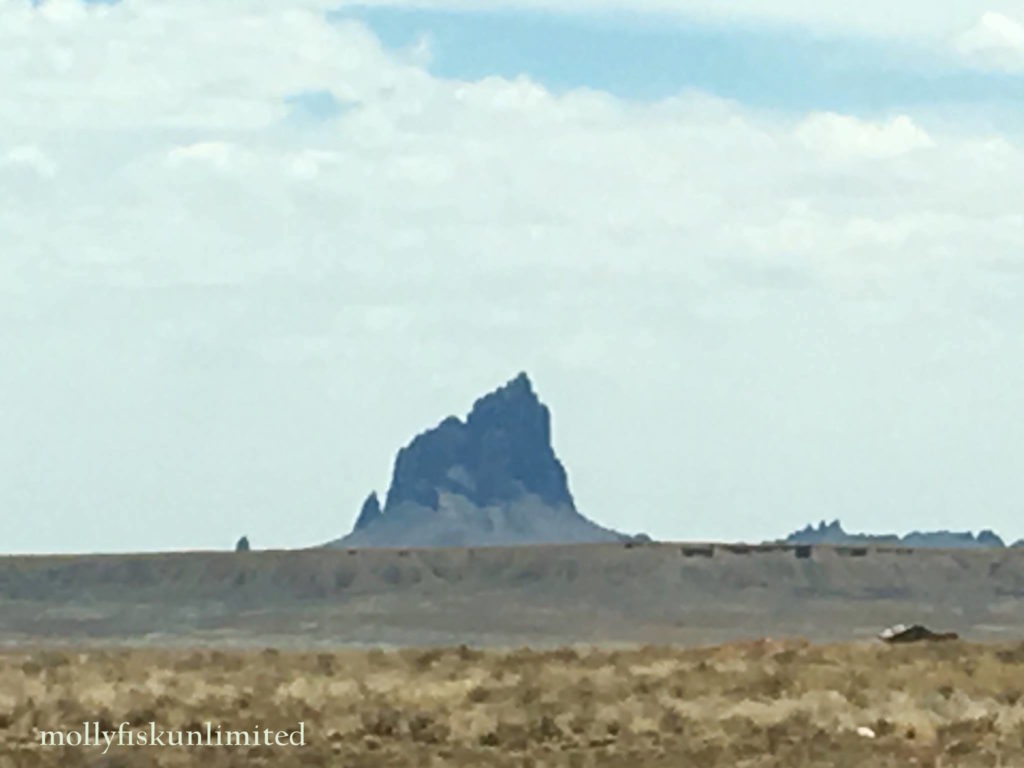 We were headed for Los Alamos, a location of cheaper motels than Santa Fe, and after a night of our handy cell-phone direction-finder getting us lost in many parts of town, we managed to escape without taking any photos at all. We drove up the hills through Chimayo and into Taos, which you may not realize has one of the best fabric stores on the planet and I needed to pay my respects. History and culture must sometimes take a back seat to a person's true obsessions, and anyway, neither of us had enough money to invest in turquoise jewelry or beautiful clay pots this time around.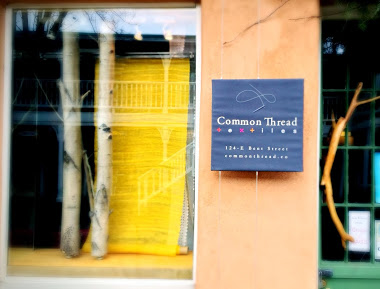 One of us had enough money to buy a few early Christmas presents for her friends plus a piece of ecologically-sound coated fabric with which to make an outdoor tablecloth, however, and I did.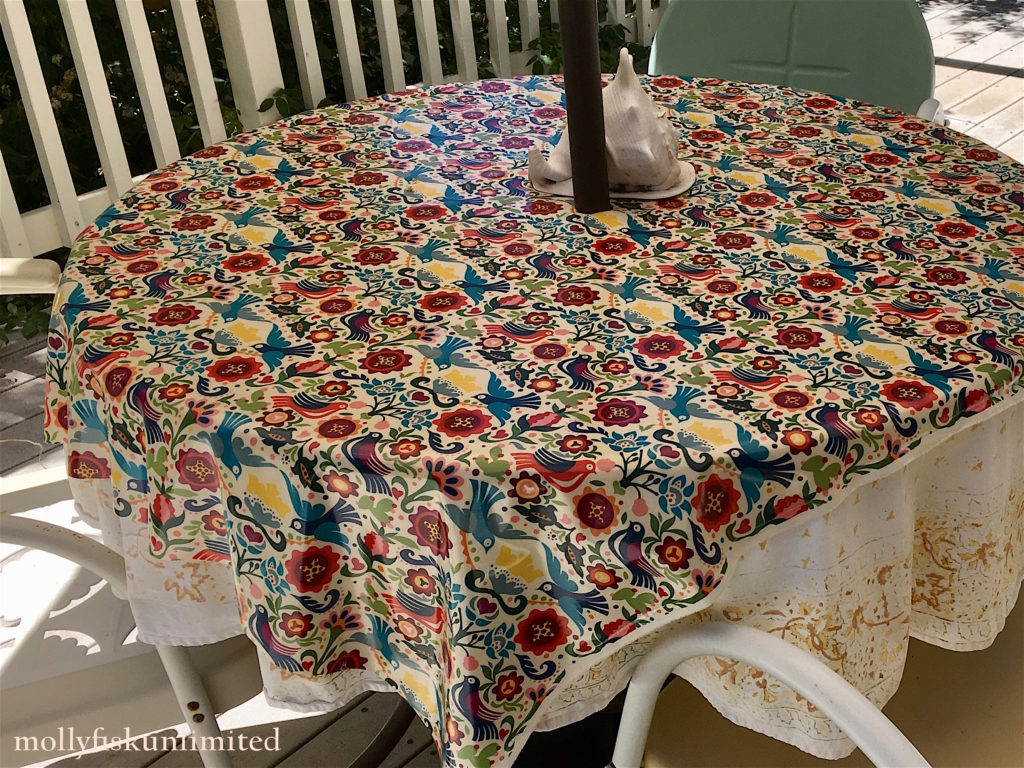 You can understand the temptations here. A person could spend her mortgage payment and then some, no problem. Common Thread, Taos, NM.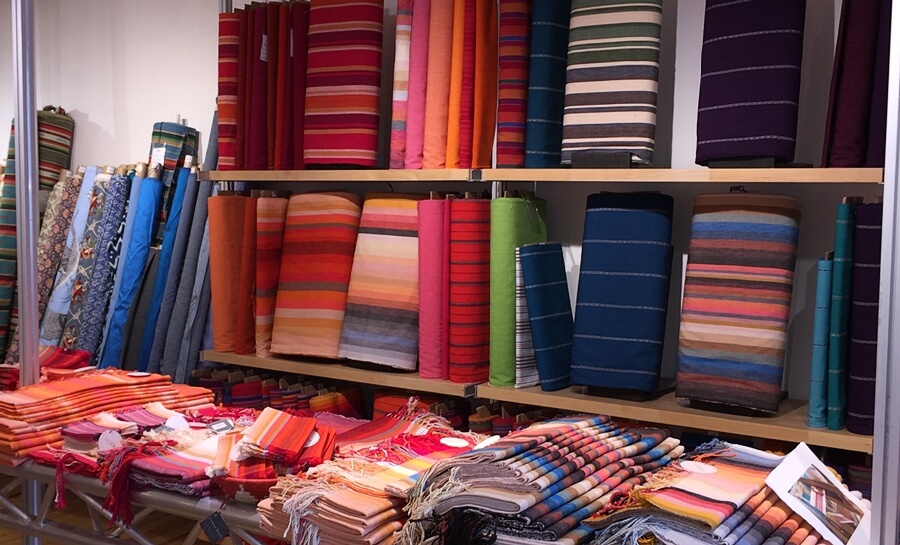 But I digress! Which is what vacations are all about, though, isn't it? 😉 That, and sometimes drinking.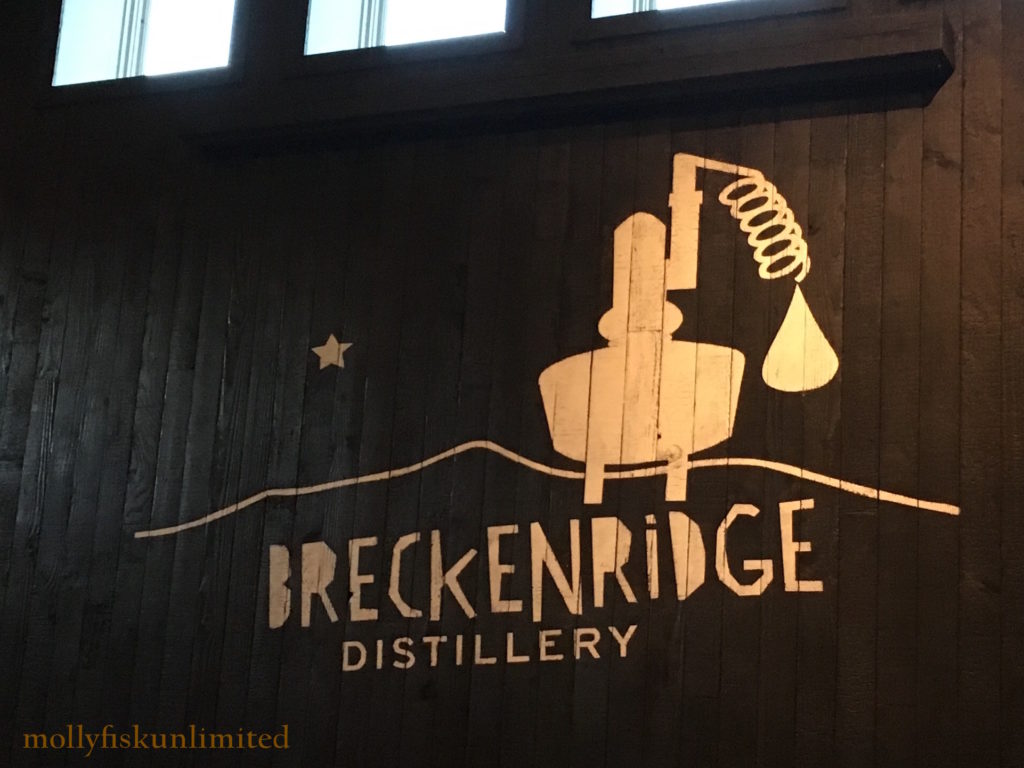 Considering that I don't drink any more, it is amazing how many breweries and distilleries I seem to visit. This one is where we met Sandy's daughter Karah for dinner in, you may have guessed, Breckenridge, Colorado. James Beard-award winning chef as well as 47 thousand kinds of swank whiskey and espresso-flavored vodka that some people purchased as a surprise present for another person who had better remain nameless in case it's still a surprise. I figure my twisted syntax will help keep this a secret if nothing else does.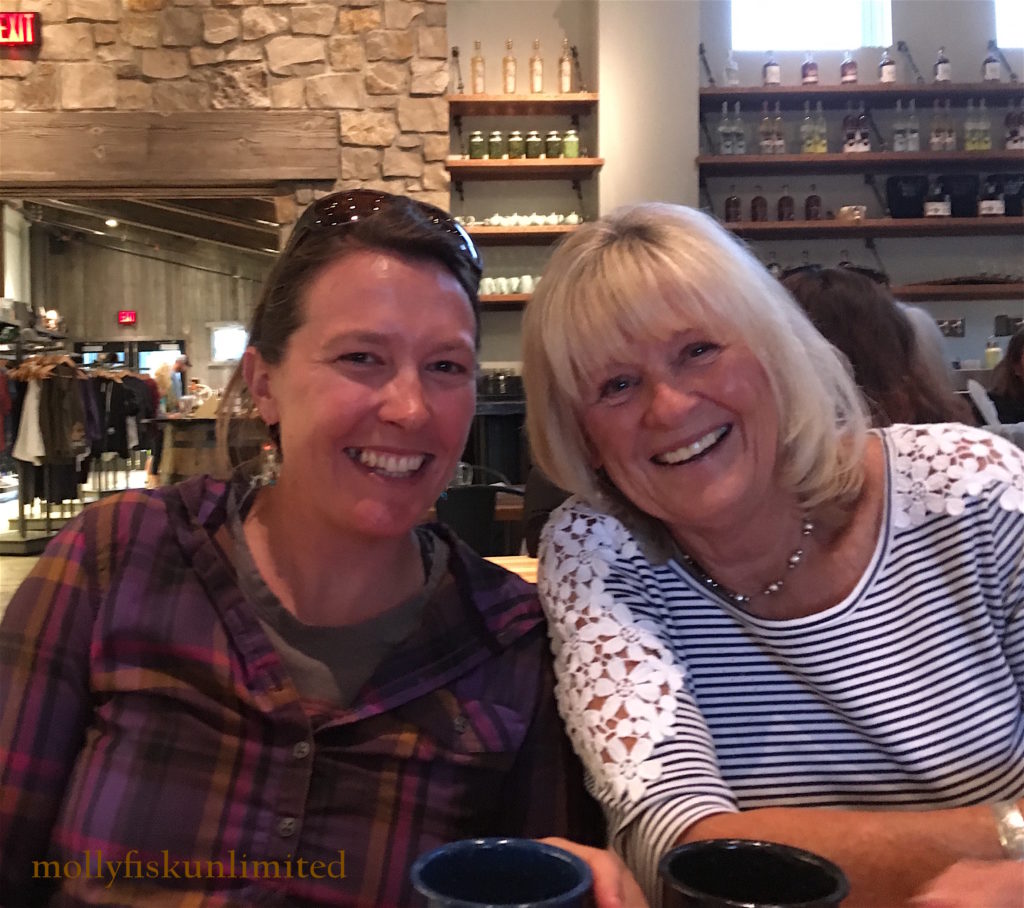 I'm afraid the scenic photos fell off quite a bit between Los Alamos, Frisco (where we stayed, near Breckenridge, but lower down because altitude is not, at a certain point, much fun for me), and Denver, where we visited my friend of 44 years (since college) Ellen. You are welcome to look up photos of the Rockies and Denver on your favorite handy search engine: they will be far better than mine.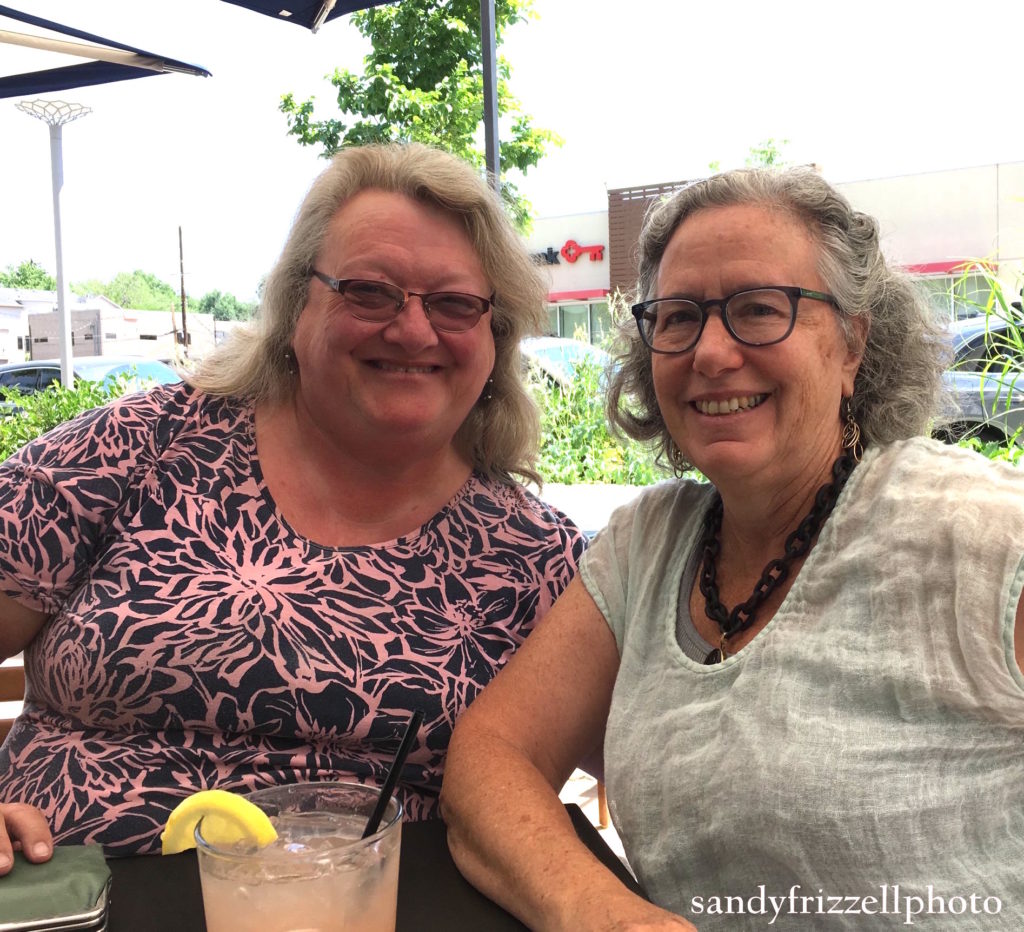 We also saw my niece Gioia, two of Ellen's three kids (Ben and Abby), and, not pictured, the beautiful but aging Great Pyrenees, Bella.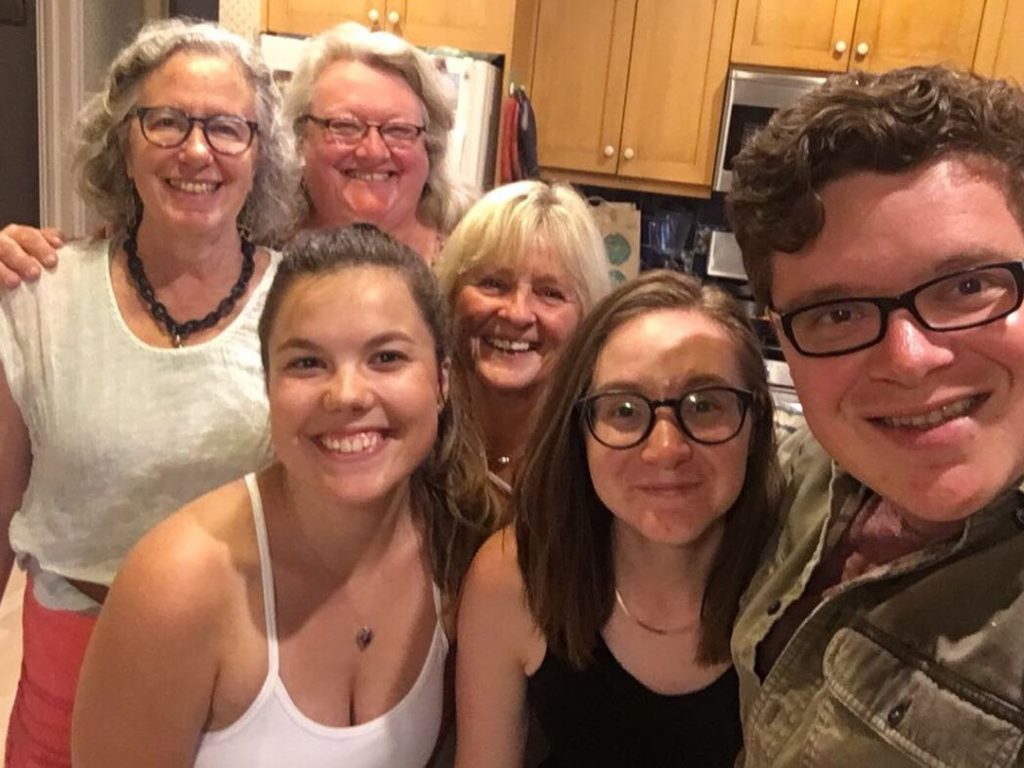 After three days of great conversation and easy-to-find lattes, in an actual CITY of all things, we waved good-bye and peeled out of town heading west again, toward my favorite spot on earth besides Paris: Boulder, Utah. We took the Interstate for a while, unavoidably, and then turned south onto State Rte. 24, which is the back way into Capitol Reef National Monument.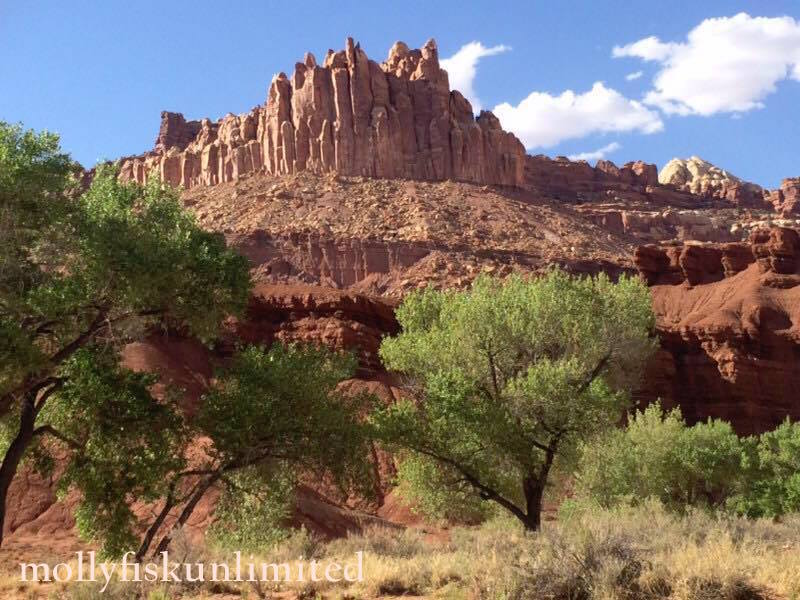 In between Capitol Reef and the Grand Staircase Escalante National Monument lies the small town of Boulder, population still about 200 despite everyone going there now from all over the planet to eat at Hell's Backbone Grill. As I mentioned earlier, I'm going to write a separate post solely about Boulder, but here are some reasons they like to call it "color country" around here.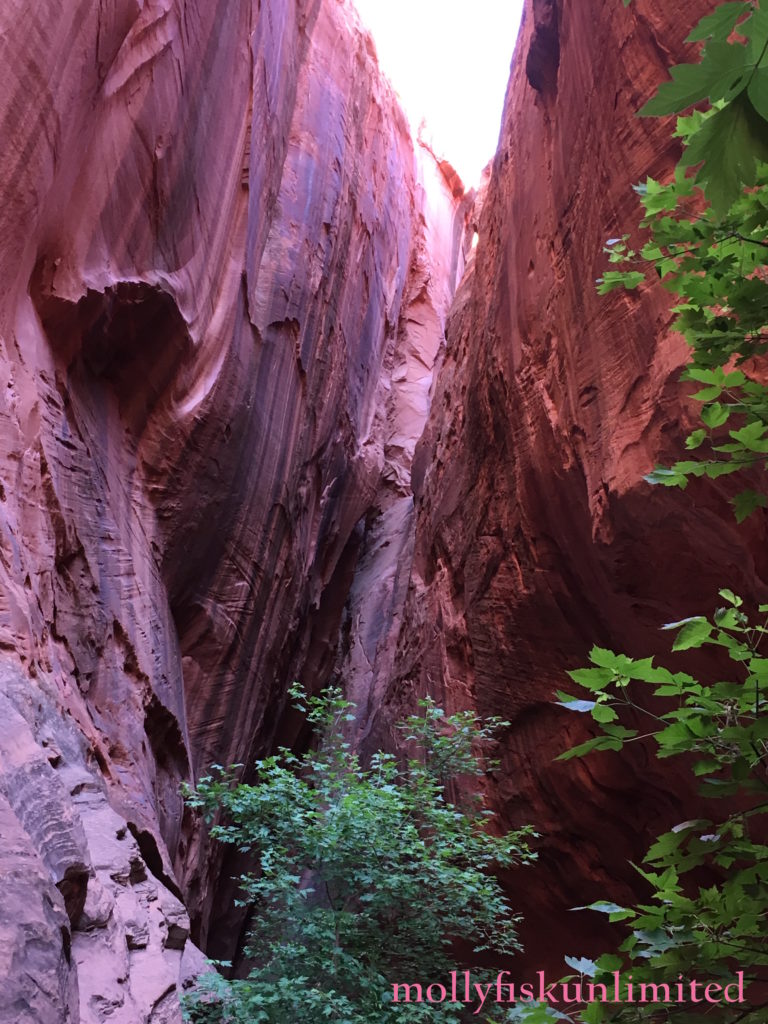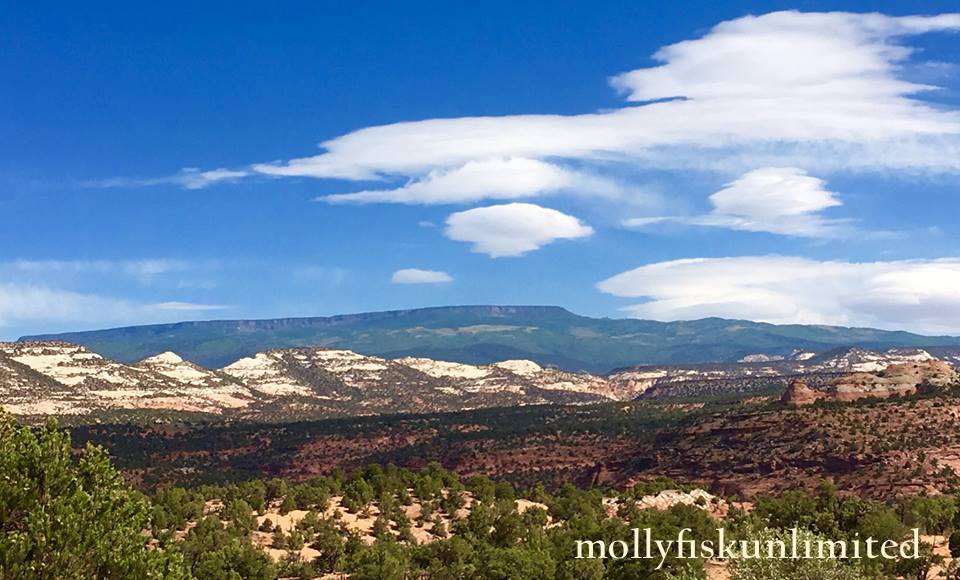 We visited here for three days as well, relaxing deeply like true vacationers, and stayed in a room I've written some good poems in. We ate trout marinated in molasses and cornmeal at Hell's Backbone, and Sandy went on a drive by herself to visit an insanely old aspen clone. 80,000 years old I think. Really. Pando, it is mysteriously called. I didn't realize that Sandy was in love with aspen trees and therefore Boulder would be such a good place to take her. I hoped she would love it, but I had no idea how much. She is now ready to go back and fly fish, invite all her relatives mountain biking, etc., etc. Another happy convert.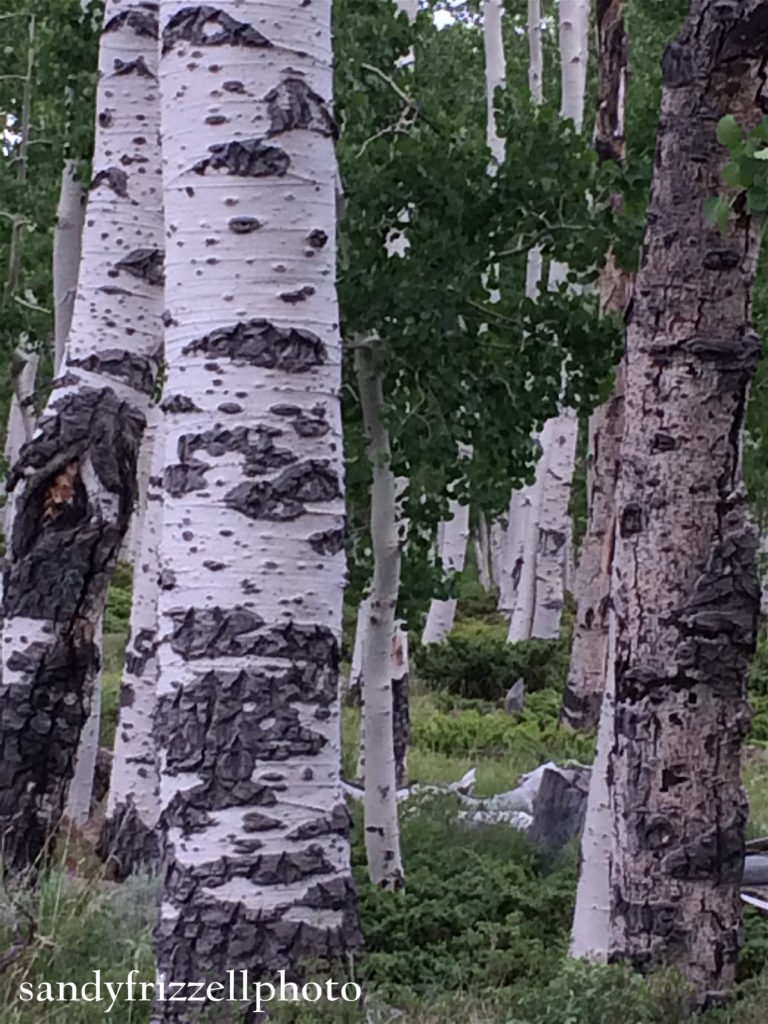 I may have worn you out with all this describing, and if so, it's fortuitous because our last day of the trip we had a long drive home. I thought this voyage was 12 hours and that's what Lucinda, our phone voice with all the opinions thought too, but there's an hour time change in there somewhere and also the phone doesn't ever stop to use rest rooms or buy gas and ice the way we do, not to mention veering onto the shoulder to take a photo or two. So it took us 14.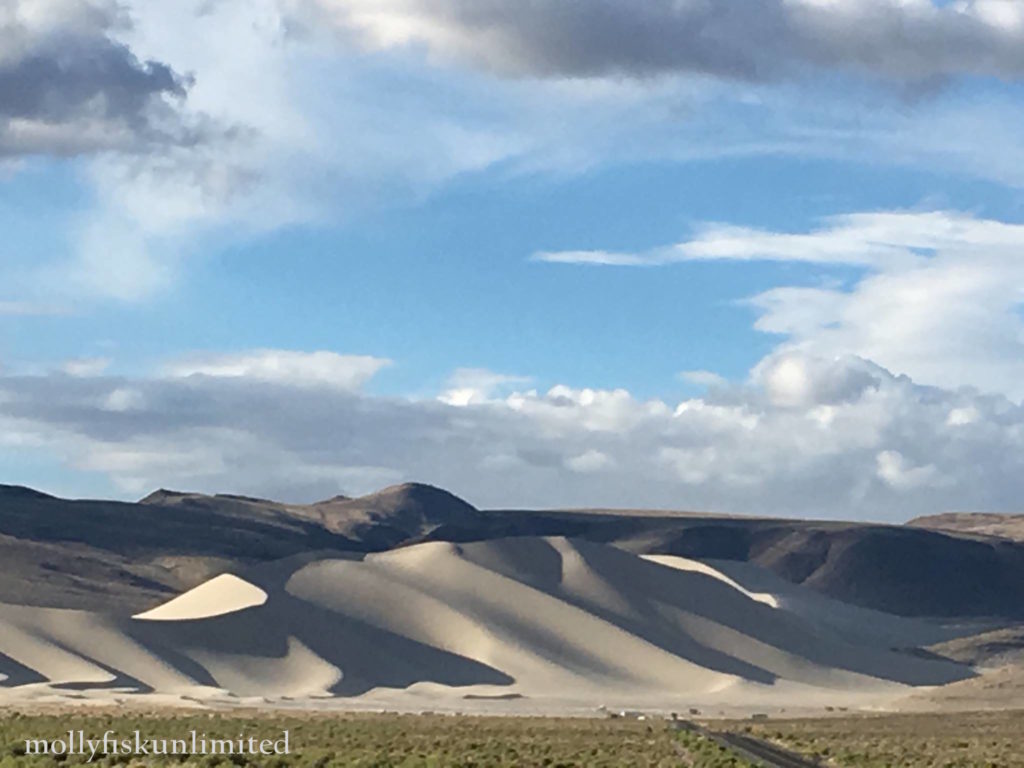 But two great things happened! There was fabulous stormy weather all across Nevada on Highway 50, the loneliest and sometimes the boringest road in America. So we were not bored at all, or lonely. And we also got to see Sand Mountain in twilight, which was so beautiful it was almost worth the whole trip. Almost, but not quite.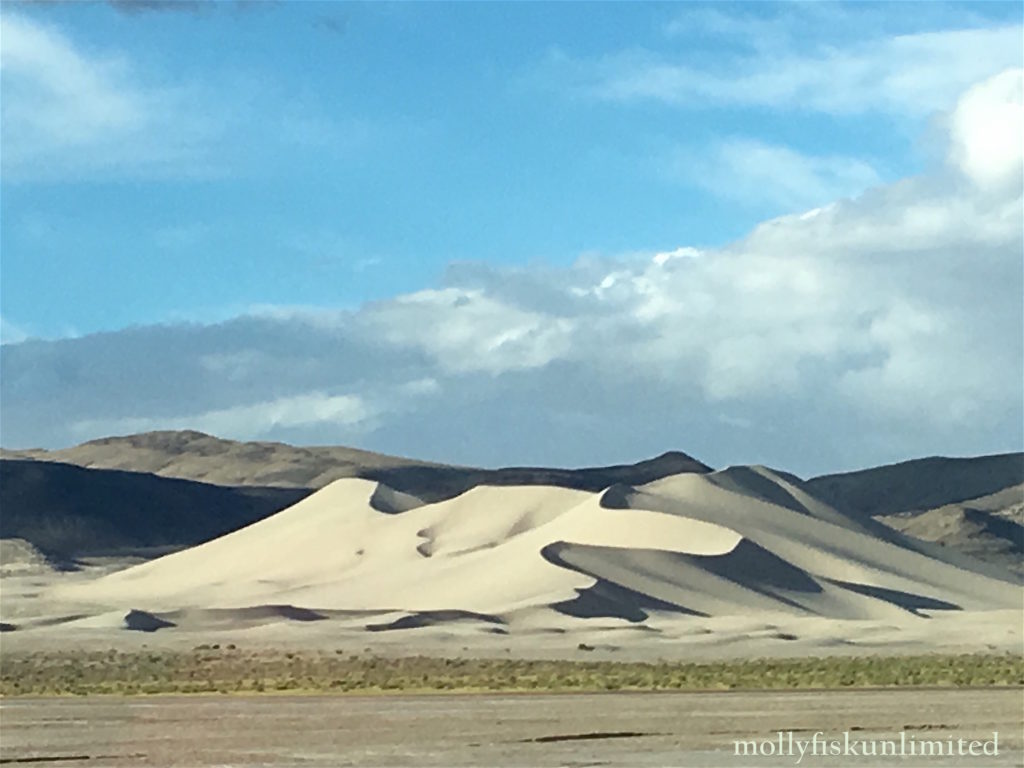 We are glad to be home and have done our laundry and stowed our suitcases, but we're also ready to go out again very soon into the world of horizons and surprises, of incredible beauty and shifting gas prices. I still have yet to see a live elk, despite 479 triangular yellow signs about how they're going to cross the road right here any minute now look out. (We saw one road-killed female, it was awful.) And a few more prong-horned antelope when I'm not driving would be good, too.
Next time.