Once upon a time, in 1999, I bought a house. My first house. An uninhabitable house. This is a long story, so I'm going to leave lots of it out. Not just one house: an acre of land with two houses on it, both uninhabitable, and a small studio off the back deck, 10 x 12. In 2000, I moved in. Some time in 2011, after much renovation and living, the studio floor began to get soft spots in odd places that weren't related to leaks from the outside.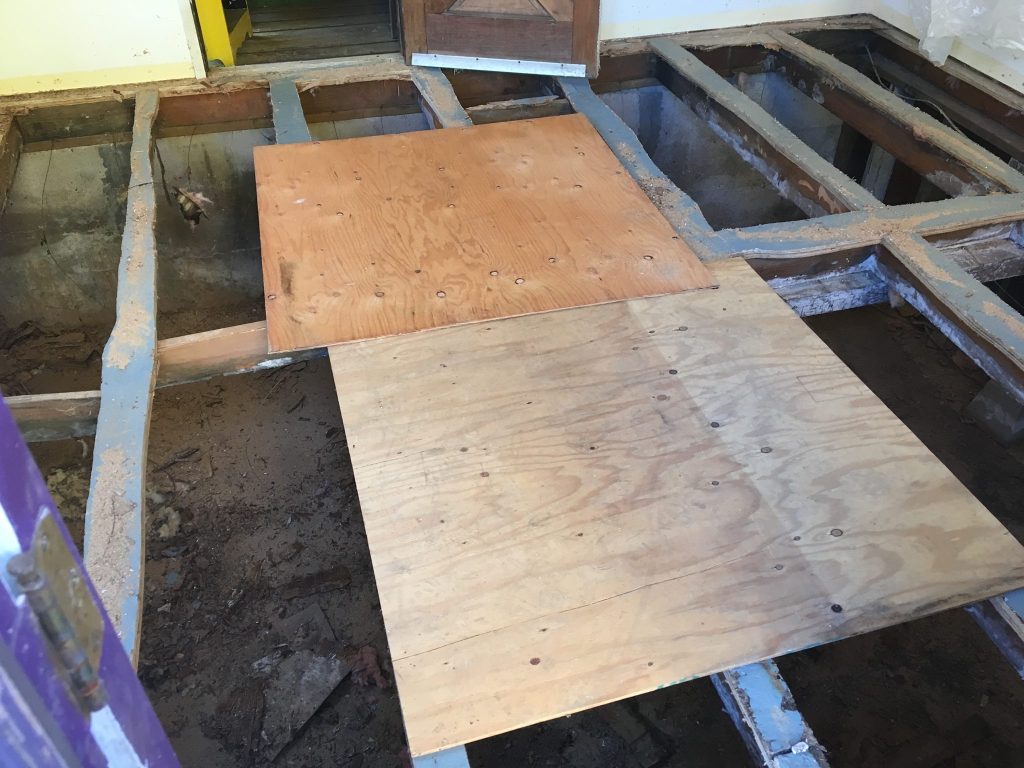 This was both mystifying and dangerous, since I am not a person of general petiteness. I avoided the earliest soft spots, had a few repaired, and then when things began to seem downright mushy, I lay plywood over where I hoped the joists were, figuring that would support my weight. And stopped going in there very much. It was indeed this plywood, above, but there was actual floor there — this is our demolition photo. Perhaps you can see that relying on joists was foolish.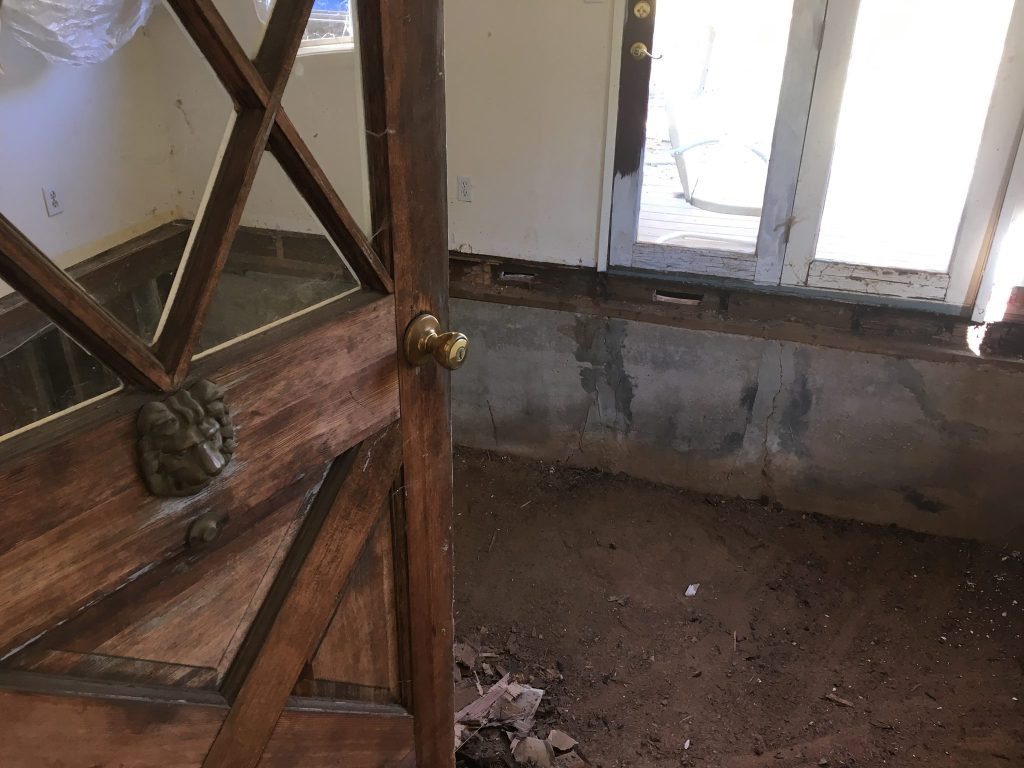 Fast forward several years of inaction, while I saved up enough money to get the repairs done and hoped the whole building wouldn't fall over. After Bruce (of Bruce Beale Construction) and Steve took the floor away, we found a tidy three-foot-deep pit with absolutely no snakes in it. This studio is most of the way down a slope, and we'd had a couple of wet winters, so it seemed the damage came from water seeping down the hill and hitting the flat unprotected edge of wood flooring that was, sadly, quite exposed. Bruce did some fancy footwork related to dry rot removal. Luckily there was no mold. Luckily Jacquie had a French door she didn't need and sold it to me for a song. New joists were inserted. New plywood was lain down over them.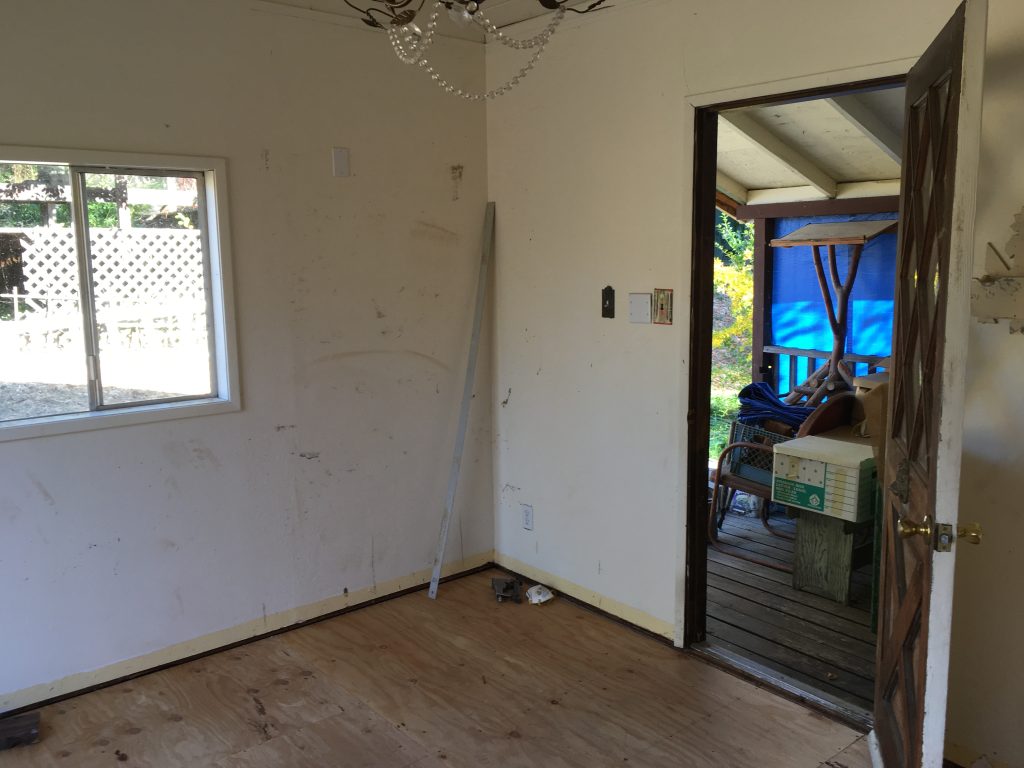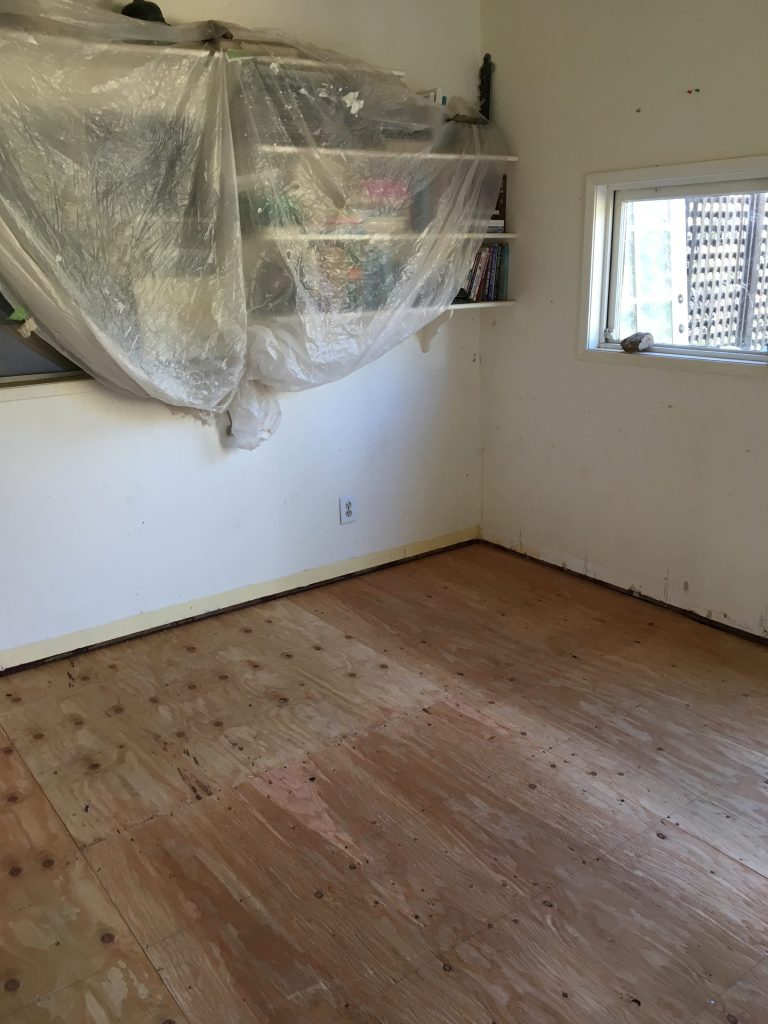 There's something heartening about a floor you can actually stand on, even in its primal state. As you can see, the studio was once yellow.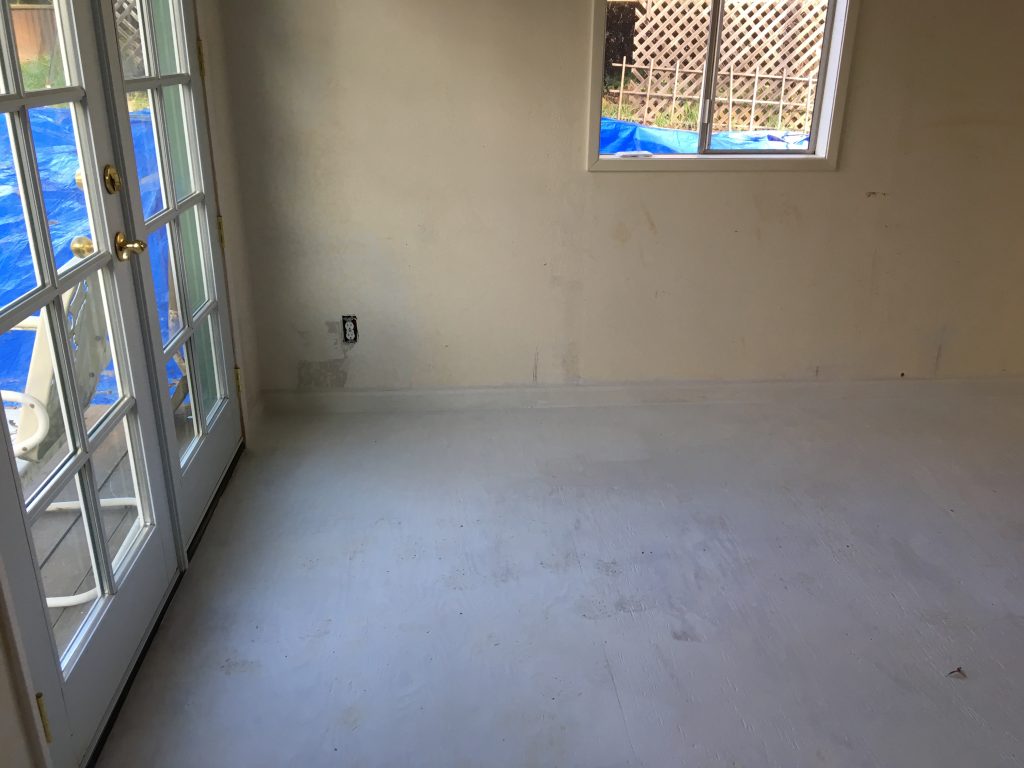 Two coats of primer (I think), and then the first of three coats of marine varnish paint.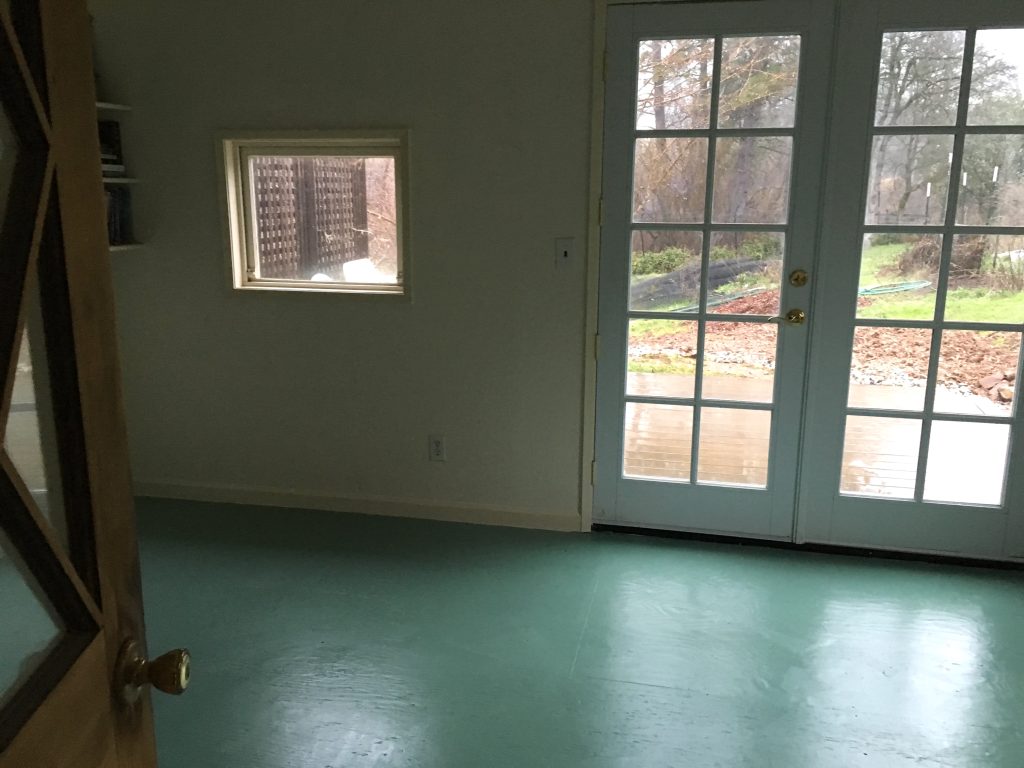 The new door is looking very swank, don't you think? I was trying to match my memory of the painted wooden floors in our grandparents old Vermont farmhouse, and laughed with my Aunt Mary over the phone about how many times she had done that, too. This shade looks wildly different in different lights, and with different focal points, ahem. That is Black Jack.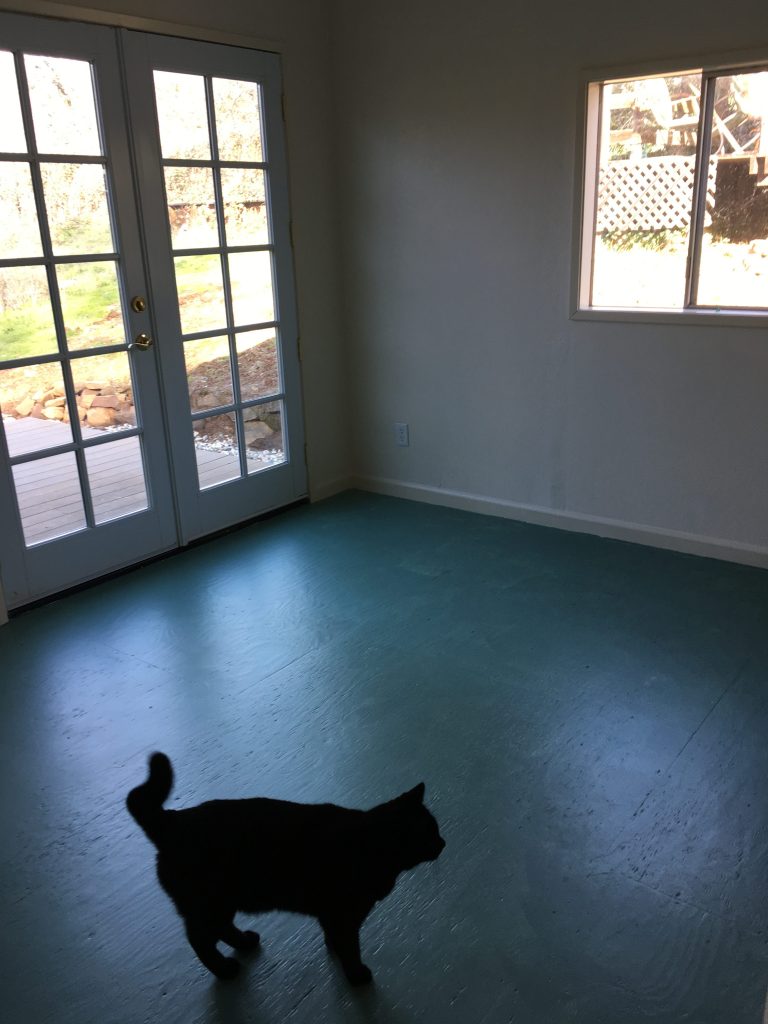 My friend, poetry student, coaching client, and sometime handyman Georg, who is a fine art painter from Austria in real life — and once moved the contents of an entire castle single-handedly — is a floor-painter after my own heart, as you can see here. The heater had to stay on to help dry the paint, since the day was hella cold.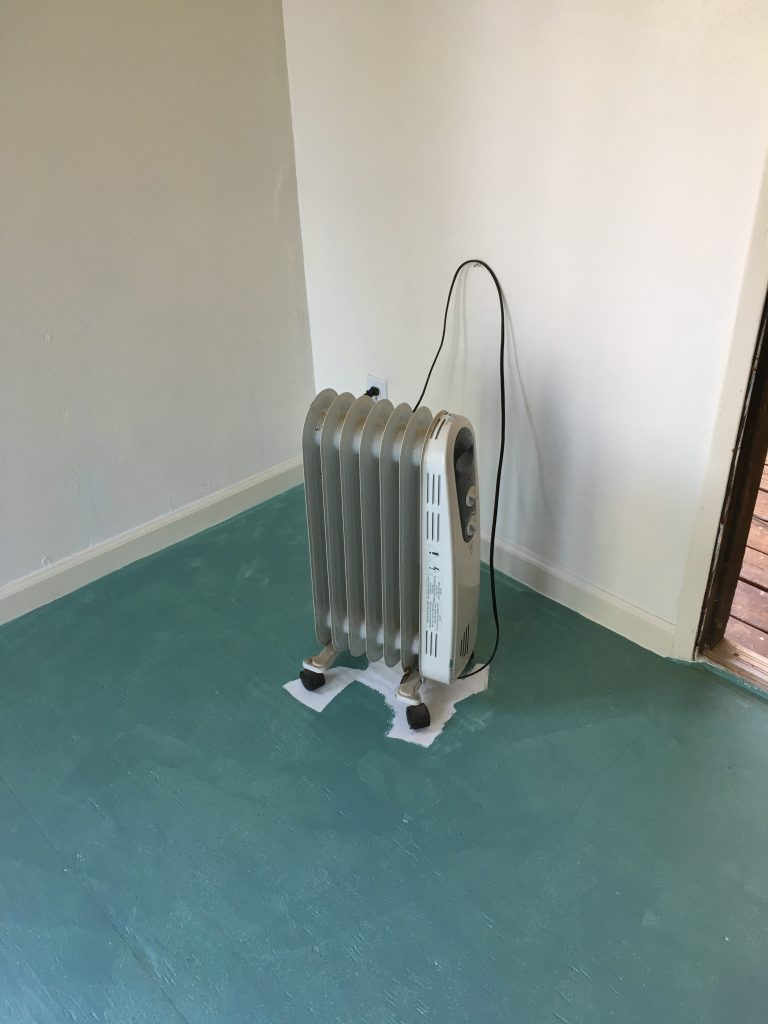 After paint, Ivey Cone of Chaos Busting (chaosbusting@oro.net) and I worked on serious cleaning. She tackled the chandelier, I wrestled with books, and some culling and donation piles were decreed.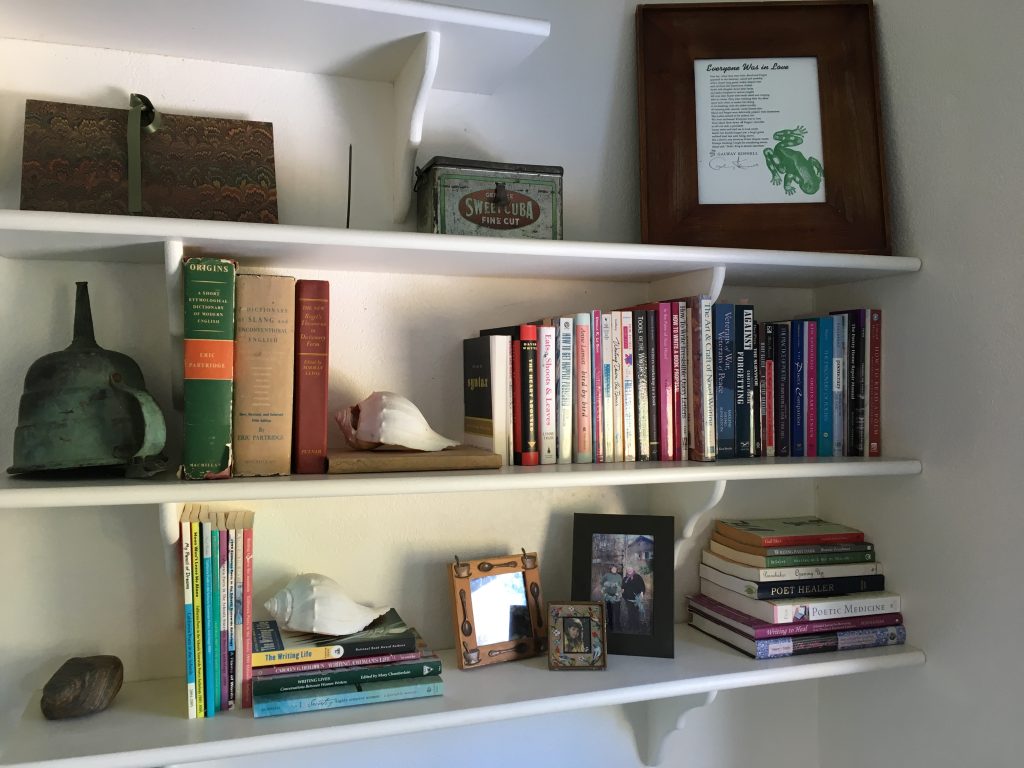 My grandmother carved this shorebird and gave it to me in 1985. Over the years, the legs, which were quite long, became unsteady and then one of them broke, so Alan Haight kindly repaired it for me, changing its species somewhat in the process.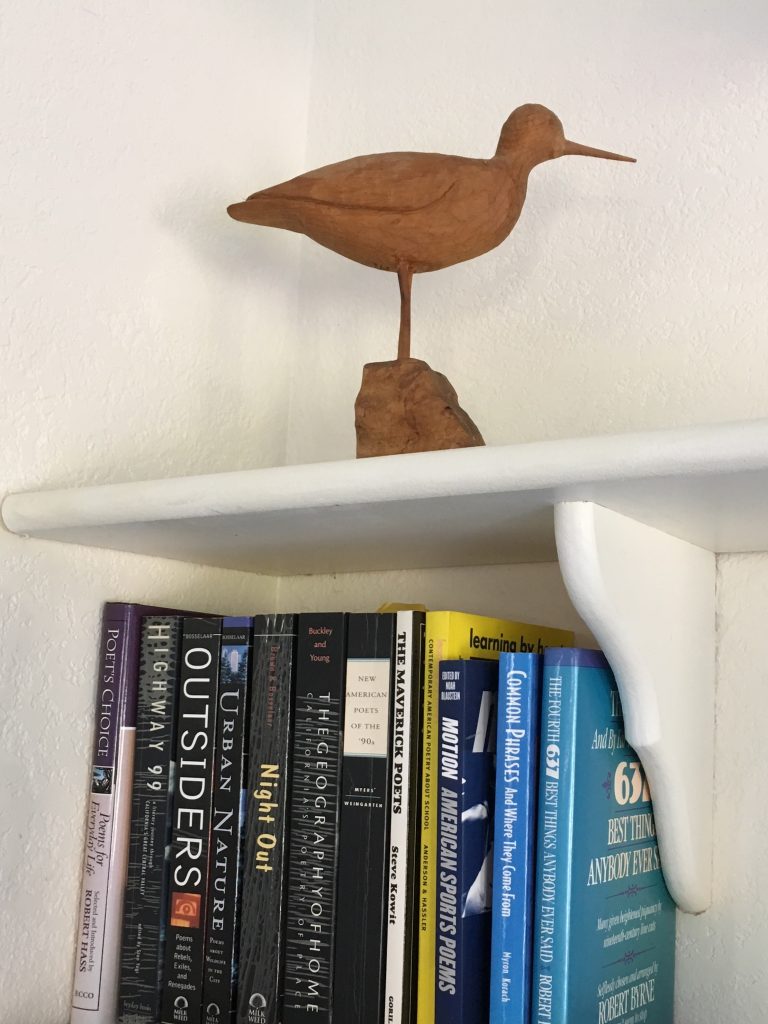 A green hutch from an estate sale up near Lake Tahoe many years ago. It once contained paper goods but now will house bedding for the guests who come visit, whoever they may be…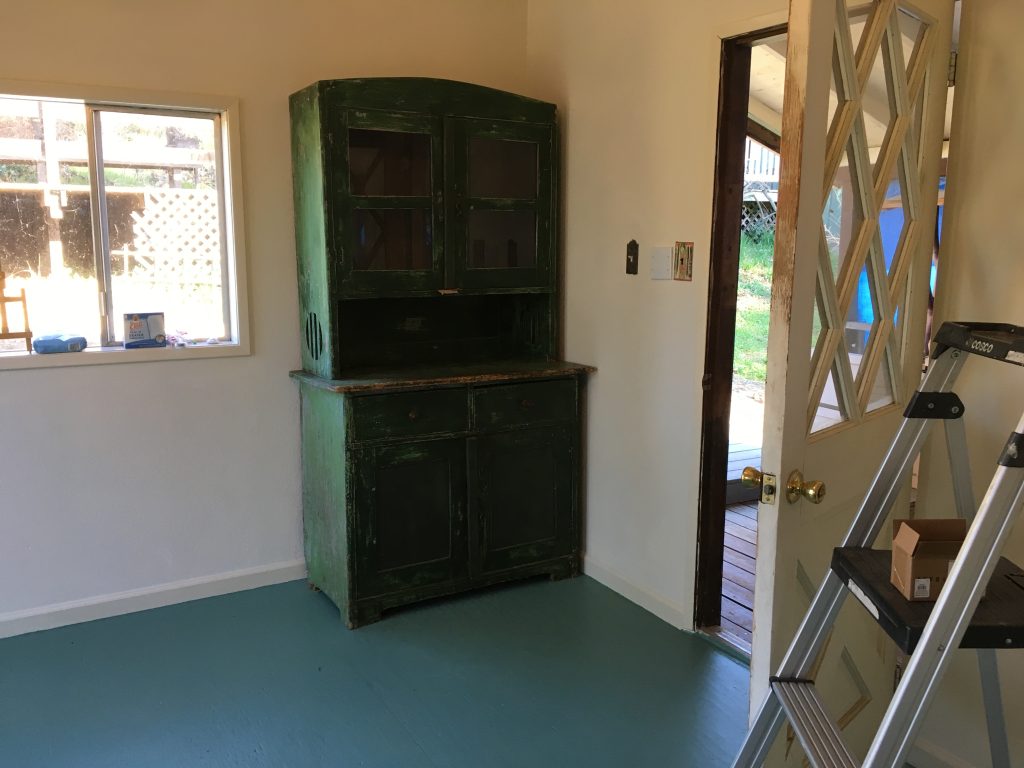 No one can see in the French doors, there's just a field out there, but I put up a curtain anyway. You never know when some random black bear is going to break through the fence, trundle past, and scare the wits out of you. Best to be able to sweep the curtain closed and pretend it never happened.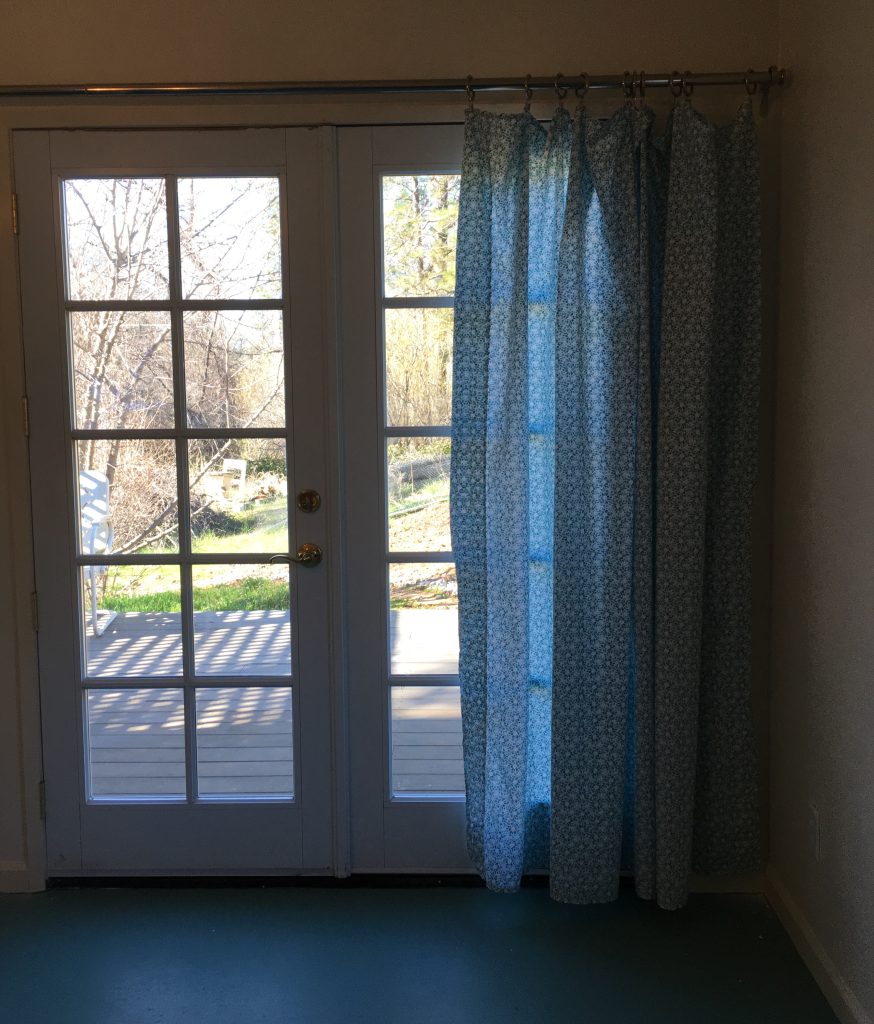 The curtain is actually a flat bed sheet from J.C. Penney, 100% cotton. This is a good way to make curtains. Always cheaper and much wider than standard yardage if you are sewing them yourself.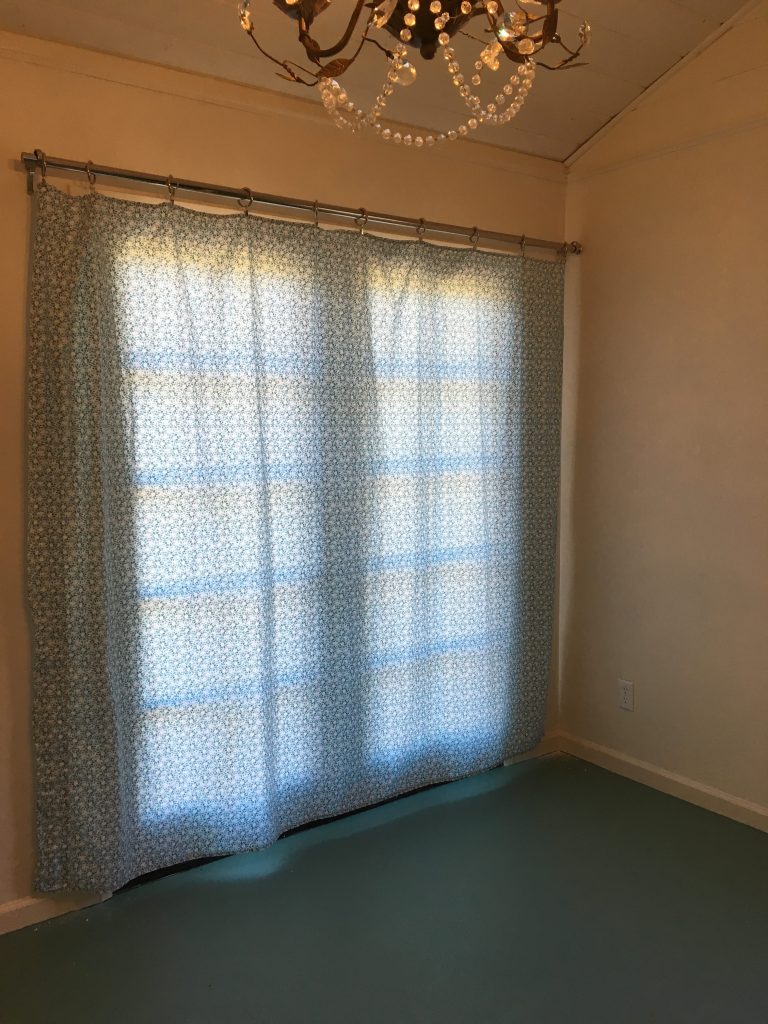 Once the floor project was done, it became clear a French drain was required to prevent this from happening again. Bruce, Steve, and rented equipment kindly obliged, and here is the result, under that gravel. It makes a horseshoe around the building and drains toward the creek. The patchy paint job will hold things until summer, when I can redo the whole place in a single shade of yellow. I'll add another photo when I find a good fold-out sofa for the space. This is going to be a writing and oil painting studio, and guest room. I hope by St. Patrick's Day, or maybe Easter.