Getting to the heart of who you are…

My name is Molly Fisk, and I'm a writer. I write as openly and personally as I can about many subjects including love, death, grammar, small towns, lingerie, and the natural world. Right now I'm the Poet Laureate of Nevada County, CA. I'm also a life coach, radio commentator, writing teacher, public speaker, and painter. All my work is aimed at getting to the heart of who I am. That's what I want for you, too. A distillation or paring away until you reach your essence. Click on any photo below to read from or order my books and CDs. Click on the menu bar, above, to see what I'm planning next and how to join me. Whatever we end up doing, it'll be fruitful, I promise! Spending time with me will get you laughing, crying, thinking, and changing. Welcome.
Latest Books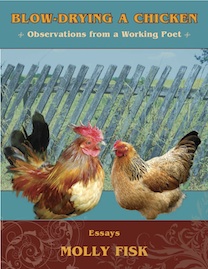 Blow-Drying a Chicken
Makes a great gift with
Using Your Turn Signal…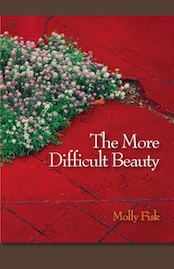 The More Difficult Beauty
poems
Support Molly

and become a patron of the arts through the grassroots economic model for artists at Patreon.
Listen to Molly's
radio essays

on KVMR's News Hour, Thursday at 6:25 p.m. Pacific, 89.5 on your FM dial, streaming at kvmr.org