NEWS: California Fire & Water: A Climate Crisis Anthology, just published March 1, 2020. April reading schedule here. New York Times article here.
Molly Fisk's great gift is the ability to communicate and inspire a kind of radiant joy. — Claudia Mills
Getting to the heart of who you are…

I'm Molly Fisk. I'm a writer. I write as openly and personally as I can about many subjects including love, death, grammar, small towns, lingerie, and the natural world. I was the inaugural Poet Laureate of Nevada County, CA, and this year am an Academy of American Poets Laureate Fellow. I'm also a life coach, radio commentator, writing teacher, public speaker, and painter. All my work is aimed at getting to the heart of who I am. That's what I want for you, too. A distillation or paring away until you reach your essence. Look around the website and see how you'd like to connect. Whatever we end up doing, it'll be fruitful, I promise! Spending time with me will get you laughing, crying, thinking, and changing. Welcome. Just for starters, you can read and listen to one of my poems on Rattle's Poets Respond page

here

.
Latest Books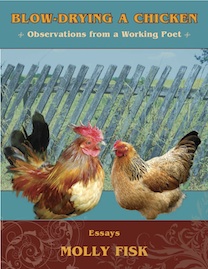 Blow-Drying a Chicken
Makes a great gift with
Using Your Turn Signal…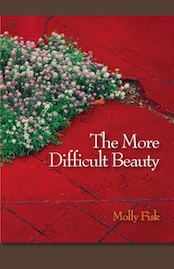 The More Difficult Beauty
poems
The best way to
support a writer

is to buy her books (see above). You can also

support me

by becoming a patron of the arts through the grassroots economic model for artists at Patreon. If you prefer one-time donations rather than systems, go here. And thank you!
Listen to my
radio essays

on KVMR's News Hour, Thursday at 6:25 p.m. Pacific, 89.5 on your FM dial, streaming at kvmr.org